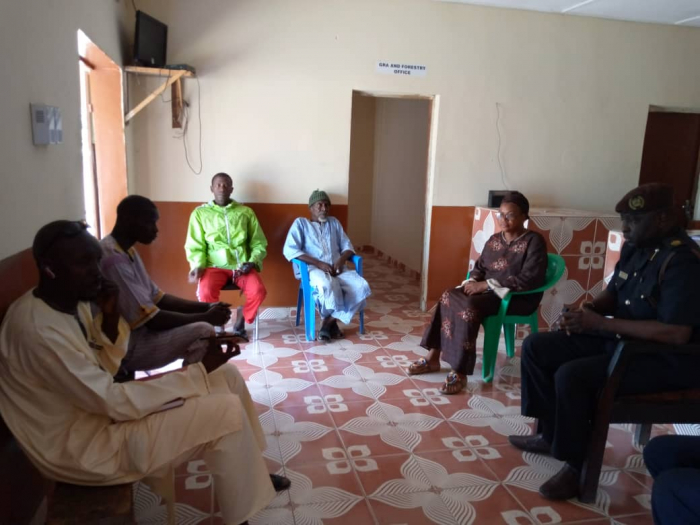 During a meeting with the West Coast Region COVID19 taskforce patrol team on Friday, the two community heads expressed deep concern over the mass entry of people into the country using the porous borders with Senegal without even being tested for corona virus.
The sensitization meeting brought together Alkalolu, Village Development Committees, Council of elders, Imams, women representatives, health workers and security personal. It was meant to discuss effective border control and management amid rise in the number of reported cases of corona virus in the country.
Yusupha Colley, alkalo of Dimbaya expressed his community's resolve in working closely with the security while stressing the need for swift redeployment of the Police Intervention Unit personal at the borders.
Darsilameh Alkalo, Musa Tabally Bojang also commended the team for the initiative while appealing to authorities to redeploy the Police Intervention Unit to solve the many problems at border areas.
Responding, Officer Commanding for Operations in West Coast Region, Famara Colley who doubles as head of the patrol team said, if COVID-19 is to be eradicated in the country, border communities should desist from assisting un-authorized travelers into the country or harbor them without notifying the health authorities.
Colley reminded that border communities have a great role to play in the effective management and control of our porous borders.
He equally advised villagers to be vigilant and to apply high sense of patriotism to report anyone suspected of illegally entering the country through the porous borders.
Program manager of Water Sanitation and Hygiene Unit, Lamin Fadera commended villagers for their support in the fight against COVID-19, saying if the borders are strengthened and communities take their rightful position, the spread of the virus will be contained.
Councilor of Marakissa of Ward, Lamin Jarju said to control the spread of the Covid-19 pandemic there is need for people to adhere to guidelines recommended by the Ministry of Health and WHO such as, social distancing reminding that as COVID-19 knows no boundaries.
On behalf of the Village Development Committee of Dimbaya, Landing Jammeh, Modou and Lamin Badjie expressed delight over the initiative, further urging officials to involve villagers in the process.
The fight against this global pandemic, he believes requires collective efforts.
Dimbaya Immigration Station Officer, Haddy Tall hailed the relationship between the security and the villagers during the past, saying it has impacted positively in their work.
She thus outlined that one of their major problems is the continues movement of people into the country mostly un-noticed using the porous borders.
Yankuba Sheriff Tabally of Darsilameh and the Imam Ratib of Darsilameh, Habib Tabally both called on authorities to strengthen border stations with Police Intervention Unit personal and mobility.
Abdulie Sowe, a health worker at Darsilameh border post, thanked the Immigration Personnel for their collaboration, further calling on communities to report anyone suspected of illegally entering the country.
Read Other Articles In National News