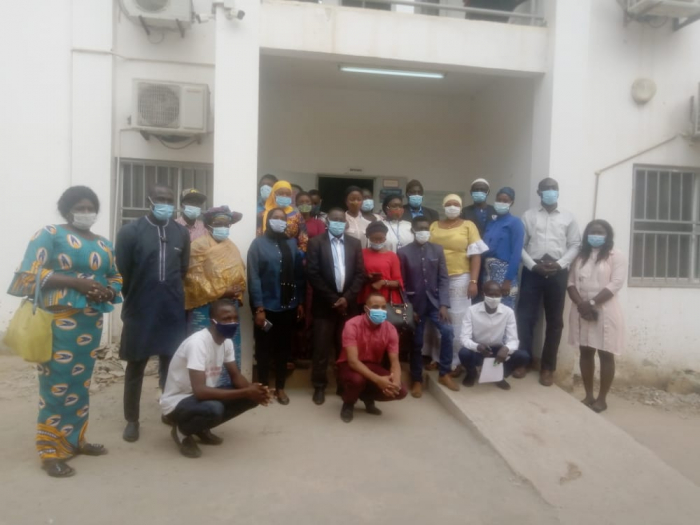 Modou Njai was speaking at a recent orientation designed to build the capacity of journalists on reporting on Covid-19 issues, and to clear the air as regards widely held rumors regarding covid-19 vaccines. The orientation was held at the Central Medical Store in Kotu.
"The Covid-19 vaccine is yet to be available in the country but once it is available, the public would be informed and that the vaccine would be used base on WHO guidelines." he said.
He said that there are still challenges with regards to Covid-19 and one of the main challenges now is denial as people still don't believe in the existence of the global virus, something that poses a great challenge to them.
"We also heard widely circulated rumours in the country in the form of audio and video tarnishing the image of the staff of the Ministry of Health."
Njai said the Ministry of Health would want to appeal to the public to investigate matters to find out more information before they start making any false accusations about their staff.
He, however, thanked the media for their continuous support since the beginning of the pandemic and called on them to be exemplary on Covid-19 precautions and guidelines.
In his presentation, Momodou Gassama, health promotion specialist at the World Health Organisation said the struggle with Covid-19 pandemic is still on, adding that one of the main challenges is denial about the existence of the virus.
"We are still struggling. When we started, there were a lot of denial and people thought it is a political disease, but that is not the case now. The disease is still here and we are battling with it. So, we are here to share these little facts with you so that you can galvanize them to be able to take informed decisions because your decision is critical." he added.
Gassama underscored the role of the media amid the global pandemic, saying since the first reported case in the county, the role of the media has been exemplary.
"We regard and honour you. Meanwhile, the support of the media is still needed because the change of behaviour is not easy and the number of Covid-19 cases is increasing in the country."
Read Other Articles In National News