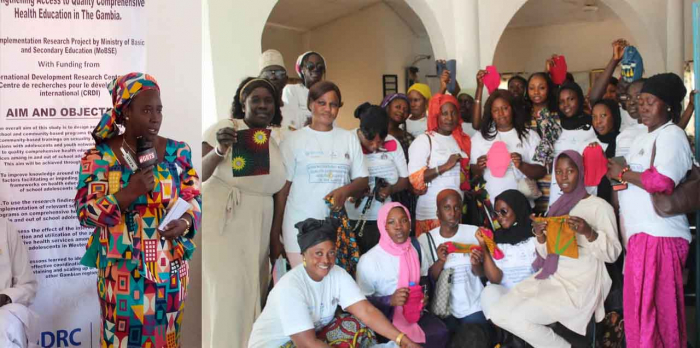 The training held at Buffer Zone in Tallinding aimed among other things to build the young girls and women's capacity and as well empower them on how to make the reusable pads for their personal use and hygiene especially during their menstrual period.
The training was part of the implementation research on Strengthening Access to Quality Comprehensive Health Education for in and out of school adolescents in The Gambia. The first phase was done in November 2021 in Banjul and was attended by out of school girls drawn from 9 wards in Banjul.
The thirty trained girls and women were drawn from 19 communities within Kanifing Municipal Council.
Comprehensive Health Education (CHE) under the project – Strengthening Access to Quality Comprehensive Health Education in The Gambia is an implementation research project under the Ministry of Basic and Secondary Education (MoBSE) with funding from International Development Research Center (IDRC). It is meant to enlighten and educate in and out-of-school students on Adolescent Sexual and Reproductive Health (ASRH).
Binta Janneh Jallow, Deputy Mayor of Kanifing Municipal Council highlighted the importance of the reusable pads and encouraged participants to take the training seriously as they can equally earn a living from it.
She applauded the trainer, Fatoumata Gassama for sharing the knowledge with the youths to better their lives. She also thanked the CHE team for the good implementation of the project.
Fatoumata Gassama, Founder and Chief Executive Officer of Girl's Pride disclosed that her association specialised in reusable pads production and education.
She noted that their reusable pads are economical and meet international standards. She advised women not to underrate or condemn it to be local products. She further explained that the reusable pads are made from cotton materials with wax top layer while the material inside (middle) is towel which makes it 100 percent cotton and does not cause irritation.
Phebian Ina Grant-Sagnia, principal investigator of the project for Strengthening Access to Quality Comprehensive Health Education for in-and-out of School Adolescents in The Gambia congratulated participants for their successful participation in the training.
She explained that reusable sanitary pads are eco-friendly, save money thus cost effective as well as washable and dry easily.
"Our research findings revealed the issues on menstrual hygiene management and period results to young ladies mostly missing school due to lack of sanitary pads and some parents not being able to afford buying them for their children," she disclosed.
According to her, each participant made hand sewn sanitary pads and storage bags within the training period.
She thanked International Development Research Center (IDRC) for funding the project.
Different types of reusable sanitary products which included reusable cloth pads, period panties, menstrual cups and menstrual disc were covered during the training. Trainees were also exposed to different hygienic methods on how to keep themselves clean during their menstrual period.
Read Other Articles In National News