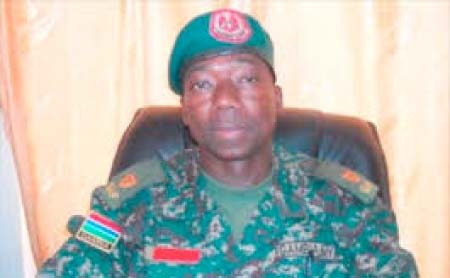 Mr. Conteh was arrested with suspected big bundles of cannabis by guards on a routine checking at the Kalagi Police Check point in the West Coast Region.
Confirming his re-arrest, Major Lamin K. Sanyang, spokesperson of the GAF, told this medium that the suspect who works at the State Guard Battalion was re-arrested when he reported to work yesterday.
The suspect, he went on, is currently being detained at the Fajara Barracks as investigation into the matter continues.
"There will jointly investigation conducted by The Gambia Armed Forces and operatives of the Drug Law Enforcement Agency."
The army, Sanyang added, has zero tolerance for drug trafficking and it related activities. "Whoever is arrested in connection with drug related issues will be investigated and dismissed with immediate effect," he assured.
It could be recalled that DLEAG operatives last Tuesday 28 April 2020 alongside an officer of The Gambia Police Force (GPF) stopped a commercial vehicle with the registration number BJL 1890 S for routine check at the Kalagi Check Point in WCR."
"During the process of search, they discovered a container (paint like bucket) in the said vehicle. The officer enquired about the owner of the said container and declared their intention to search it. A male subject who identified himself as a soldier claimed to be the owner of the container but refused for the container to be searched."
According to him, with support from colleague police officers on duty, he (Conteh) was taken together with the said suspected container to the charge office.
"Upon arrival at the charge office, the said individual took out a pistol, fired a shot into the air to pave a way for his escape. Later, a search was conducted but he could not be traced."
"The suspected container was searched and three big bundles of suspected cannabis were found in it. Similarly, officers found one big bundle of suspected cannabis in his green traveling bag. The driver also revealed that the said individual identified himself to him as a military officer when he boarded the vehicle from Brikama heading to the province."
In a separate development, the GAF spokesman confirmed that two other soldiers, who were arrested in connection with the stolen fuel coupons at the Army headquarters in Banjul have been released, while about 12 others are still detained as the matter is still under investigation.
Read Other Articles In Headlines