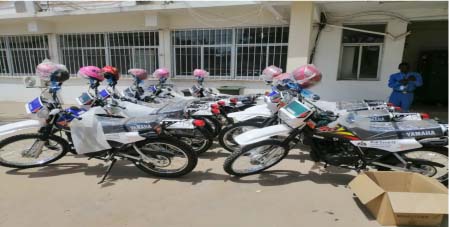 Presenting the items, Kunle Adeniyi, The Gambia country representative stated that the motorbikes donated will enable the Ministry's surveillance officers to reach many communities. He noted that UNFPA is committed to the process of supporting The Gambia government especially at this trying moment.
"We are with the government and people of The Gambia up to the end of the pandemic," he said, while assuring the Health Ministry that they will work together to limit the spread of the virus.
Dr. Ahmadou Lamin Samateh, the minister of Health, said the donation would go a long way to easing some transport difficulties for surveillance officers. He added that it would also enhance the Health Ministry's ability to carry out contact tracing during this period of covid-19.
Health Minister Samateh pointed to the fact that with the help from partners, his ministry also is putting in efforts to contain covid-19.
He assured them that the donated motorbikes will be used for its intended purposes as he thanked UNFPA for their continuous support towards the health delivery system of The Gambia.
Read Other Articles In Headlines