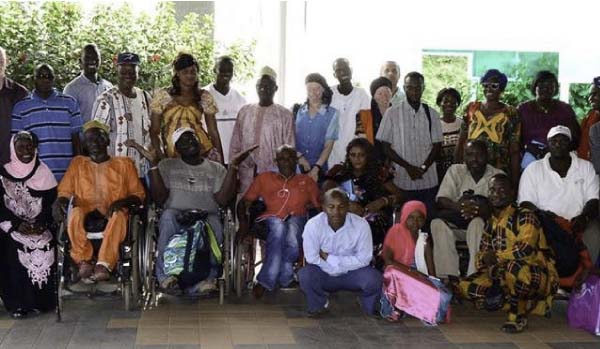 The D30,000 covid-19 relief package was presented to The Gambia Federation of Persons with Disabilities (GFPWD) at a ceremony held at GOVI, Kanifing, over the weekend.
Speaking at the occasion, Muhammed Krubally, chairman of The Gambia PFPWD and a magistrate, said the gesture was unprecedented, revealing that this is the first time his federation has received cash donation in the midst of the global health pandemic.
He said: "The coronavirus pandemic is affecting everyone including persons with disabilities. We have been receiving lot of support from around the world. We got food items and sanitary materials but this is the first time that we receive cash transfer for the GFPWD."
Krubally also revealed that GFPWD is the umbrella body of 16 organisations in the country representing an estimated 300,000 persons out of which 120,000 have serious disabilities ranging from physical and visual impairments, mental health and related impairments.
He thanked the donors, assuring them that the money will be used for the purpose intended, while urging public institutions and NGOs to emulate the benevolence of the Manchester Gambia Support Network Organization.
Kemo Ceesay, trustee, Manchester Gambia Support Network, said his organisation chose to donate money to The Gambia GFPWD due to its purchasing needs. "Money is more appropriate because it has buying capabilities and possibilities that can easily address the needs of GFPWD", Ceesay emphasised.
Omar Camara, secretary general of GFPWD, said they are facing lot of challenges so he expressed hope that the sum donated would ease their burden.
Read Other Articles In Headlines