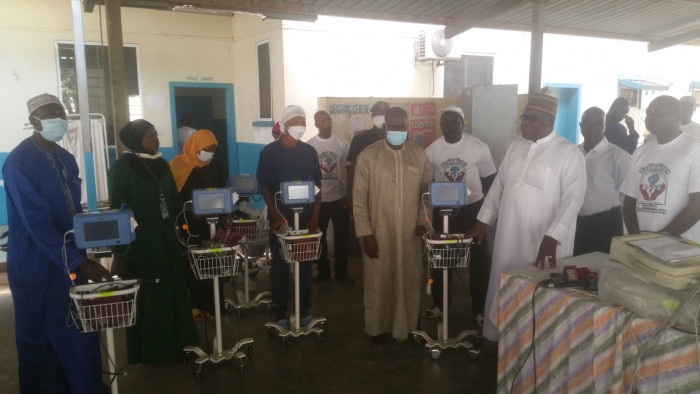 The handing over ceremony which was held at Fajikunda Health Center was witnessed by senior government officials from the Health Ministry, councilors, as well as community elders.
Speaking in an interview with this reporter shortly after the handing over of the equipment, Lt. Col. Seedy Joof, project manager of the organisation said giving out these materials to the Ministry of Health, is part of his organisation's contribution to national development.
"We also told them that we are responsible for the maintenance and every year we will invite for a maintenance experts from America to come and maintenance the items," he said adding that most of this hospitals have this ACG machines, but they don't have the printout, and there is a provision that, every year we would bring printout to for them."
Joof said their next plan would be to shift from health to education, adding that their next plan would see them building the toilet facilities and a library for Charles Jaw Primary school.
The donated items include vital signs monitors, electrocardiograph machines, surgical gloves, sterile bandages, surgical tapes, and wound cleanser solution amongst others.
Talibi Vous Foundation is a non-profit, apolitical, non-tribal and non-religious organisation which was formed by a group of Childhood Gambian Friends in FajiKunda, LatriKunda, NemaKunku, and Wellingara catchment area and reside in and outside of the country who donated these equipment.
He added that the Foundation was founded on the basis of helping vulnerable communities to able to meet their primary social needs that include health care.
"The need of providing the medical equipment was premised on the prevailing health situation which as we all know, has put the sweet Gambia into a state of grief and unease," he said, adding the foundation as part of its social responsibilities, considered it essential to donate the medical equipment in order to help the government in the fight against the corona virus."
Alhajie Sankereh, director of Health for Region One, who received the items on behalf of Health Ministry, said the gifts were very timely and would help "us to monitor vital signs of patients for better service delivery."
He thus commended Talibi Vous Foundation and the entire membership living both in and outside the country for raising the funds to buy the medical equipment.
Read Other Articles In Headlines