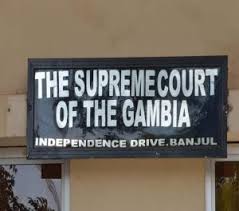 The measure, directed by the Hon. Chief Justice pursuant to Section 143 of the Constitution, 1997, is being taken to make up for the time lost by all the courts across the country during the unavoidable break caused by COVID-19 pandemic, according to a release.
"The forty (40) days period will be used by all the Courts to expedite the hearing of criminal cases as a possible way of decongesting the Prison system within the context of the pandemic and securing rights of the prisoners to trials within a reasonable time," the press release added.
"Since Monday, 20th August, 2020 all the Courts in the country embarked specifically on the hearing of only criminal matters", it went on, saying: "the exercise will last until 31st August, 2020, when it is expected to result in the disposal of a significant number of criminal cases in the overall Courts System."
In the High Court, an average of six cases have been listed for hearing during the period by each of the nine (9) Judges, the release further stated while adding that similarly, all the Magistrate Courts across the country have scheduled the same average number of criminal cases for hearing.
The Supreme Court will also during the period sit to hear the constitutional matters and cases of public interest.
The Court of Appeal too will hear criminal appeals against High Court decisions during the period.
At a meeting with the Hon. Chief Justice last week, the stakeholders (Hon. Judges, the Magistrates, Ministry of Justice, Ministry of Interior, the Police, Bar Association, National Agency for Legal Aid, National Drug Law Enforcement Agency and the Prisons Services, among others), undertook to ensure that the strategy worked and succeeded.
The Judges and Magistrates have been further directed by the Hon. Chief Justice to ensure that the health and safety measures put in place by the Judiciary are strictly complied within their respective Courts. These measures include: (1) Compulsory carrying of masks by all concerned
(2) Regular hand sanitising
(3) Thermometer testing at all Court entrances
(4) Insisting on social distancing in the Courts
(5) Avoiding overcrowding in court rooms, corridors, Registries and offices.
Meanwhile, vendors are specifically banned from selling their goods and wares within the Court premises.
The exercise is a replica of the special criminal sessions of all the Courts in the country held last year.
Read Other Articles In Headlines