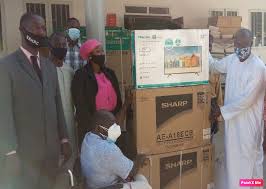 The donated materials include: 35 junior executive desks and chairs, 70 visitors and reception chairs, 14 filling cabinets, 8 metal cupboard (2doors), 15 refrigerators, 1 split air conditioner (18000BTU), 8 fridge freezers, 17 - 32 inches flat TV sets, 15 satellite decoders, 2 microwaves, 11 desktop computers, 11 printers 3in1, 11 UPS 1500W, 10 water dispensers, 8 bathroom mirrors, 38 pedal dustbins, 41 double plastic boxes and 41 double socket.
The donation was attended by some senior staff of the SSHFC and the officer in charge of the Ndamban clinic Dr. Abubacarr Jagne among others.
In his introductory remarks, Fabuka Njaay, director of Corporate Affairs at SSHFC said: "It is envisaged that the support will contribute towards the improvement of the Ndemban Clinic and the country's health delivery in particular."
Mr. Njaay further dilated that the SSHFC has over the years been supporting the Ministry of Health as part of its social corporate responsibility.
According to him, SSHFC is cognition of the fact that helping the health sector will mean indirectly impacting the wellbeing of our members. "We believe it will go a long way towards promoting the health system," he said.
He added: "We thank the management of the corporation for always remembering their social corporate responsibility by putting their members first before anything else. We also thank the hospital for the collaboration and assured them that this is just the beginning. We will continue towards supporting the development of this country."
For his part, the deputy managing director of SSHFC, Anusumana Touray, lamented on the importance that SSHFC attached to the health sector. He cited that the idea to purchase the materials for the clinic was conceived by the SSHFC board as part of the corporation's continued support towards the country's health sector particularly during the covid19.
According to Mr. Touray, the donation was also part of their corporate social responsibility as well as complementing government's efforts towards addressing enormous health constraints in the country.
"We will continue to give our support whenever we feel it is necessary. We are committed to ensuring that we contribute actively henceforth toward addressing the health challenges," Mr. Touray stated.
The doctor in-charge of the Ndemban Clinic Covid-19 Treatment Centre, Dr. Abubacarr Jagne, while
receiving the items, lauded the excellent working relations between his ministry and the SSHFC. He described SSHFC as a very key partner that is always responsive to the needs of the Ministry of Health.
"This is clear a demonstration that you have the interest and wellbeing of the public at the center of whatever you are doing. The cooperation has been mutual over the past years and the Ministry of Health is ever committed to continue fostering this collaboration," he said.
Dr. Jagne also assured the management of the SSHFC that the materials would both be put into good use and for their intended purpose.
Read Other Articles In Headlines