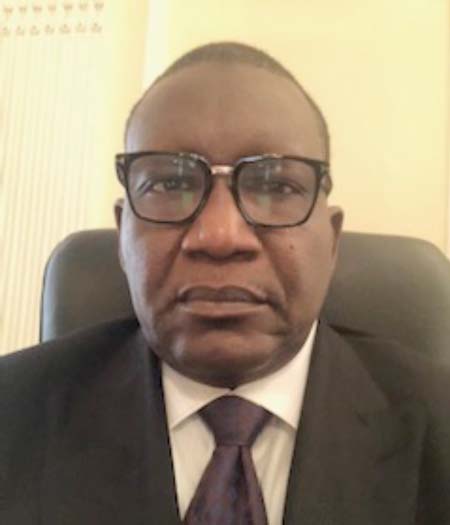 Ambassador Sene made these remarks in an interview with this paper last Friday.
It could be recalled that President Sall allocated 12 and a half billion CFA to Senegalese in the Diaspora.
Senegal registered its first Covid-19 case on 2 March 2020 and President Sall has since taken several measures and steps to fight the disease as well as support his citizens within and outside Senegal.
Among the measures taken by Sall include allocating over sixty-four billion CFA to the committee responsible for combating the disease. Enterprises and families of those affected by the disease are also part of beneficiaries of the assistance.
Ambassador Sene said an application to benefit from the assistance is to be done online commencing Saturday 18 April 2020.
"No one can benefit from the assistance if they do not apply online," he noted, saying only those who apply online will benefit from the assistance.
He therefore encouraged all Senegalese in the Diaspora to apply online, noting that once they apply online they will receive a receipt showing they have successfully applied.
He also urged them to safely keep their receipts until when called to receive their monies.
"All needy people in the Diaspora must register themselves in a platform online in Dakar and when all applications are received, a decision will be made on how to share the money among them," he remarked.
He said he was going to communicate the platform with Senegalese residing in The Gambia once he receives the communiqué.
He told his countrymen residing in The Gambia that application should be done either from home, an office or internet café because they cannot allow people to gather at the embassy.
However, Ambassador Sene clarified that they have not yet received any money from Dakar as of Friday.
"Money is very nice but life is better," he told Senegalese residing in The Gambia and therefore urged them to stay at home, respect WHO recommendations and guidelines by regularly washing their hands, wear masks as well as respect social distancing. "We have to protect ourselves and our families."
He said the monies when received will help families with their daily meals among others because some of the Senegalese nationals residing in The Gambia were involved in businesses and the public state of emergency has limited their activities.
However, he advised them not to use the money to reengage their businesses but use it for family purposes until when the disease is beaten and activities resume.
It is estimated that between eight hundred thousand to one million Senegalese are currently residing in The Gambia.
Read Other Articles In Headlines