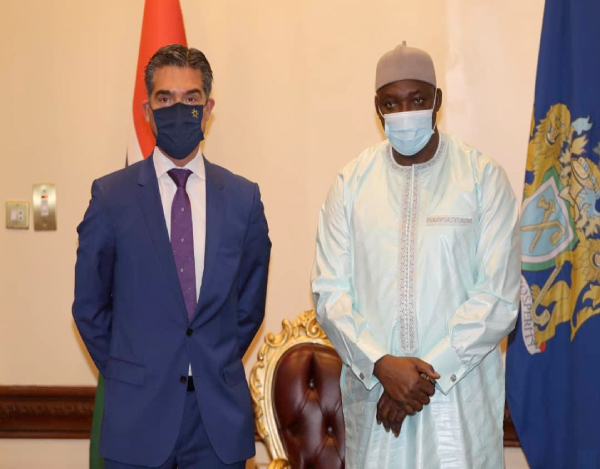 The President called on the Ambassador to work on improving the historic relations between their two nations. He commended the cordial ties between The Gambia and Portugal at the multilateral levels, the EU and UN levels.
Responding to the invitation to initiatives to encourage blue and green diplomacy in a bid to deepen cooperation between the two countries, President said he would welcome any initiative to develop and strengthen bilateral ties for the mutual benefit of the citizens of the two countries.
Speaking to journalists after his audience with the President, the Portuguese Ambassador said The Gambia's efforts in combating and managing the Covid-19 pandemic is commendable, adding that vaccine equity is human rights and must be a global public good accessible by all.
He also observed that effective multilateralism remains at the heart of The Gambia's Foreign policy, which is a clear common point with the Portuguese geopolitical viewpoint. He added that the two countries would further enhance bilateral relations in the areas of blue and green economy and maritime security. Revealing that West Africa is a priority for Portugal's Presidency of the Council of the European Union. He stated that his country is organising initiatives, which include two seminars on blue and green energy that might interest the Civil Society and institutions in The Gambia
He expressed delight to formally invite Gambian authorities to join the Atlantic Center Initiative, which can be 'very beneficial' to both countries.
Read Other Articles In Headlines