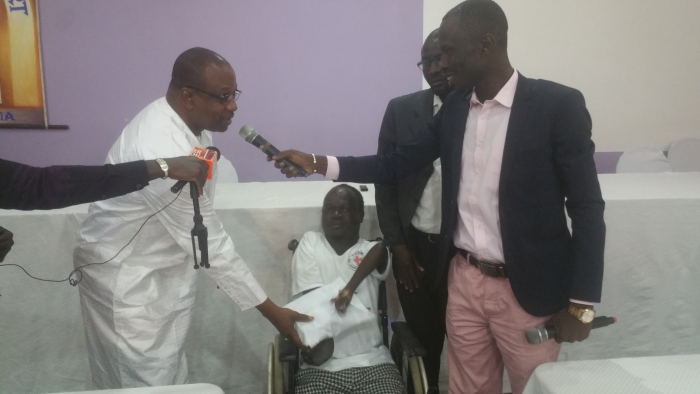 "I am very much happy to continue my support to the persons with disabilities. The disabled people have been contributing so much in many sectors across the country especially in the GDC party," he said.
According to Mama Kandeh, he was very touched when the federation of the disabled came to ask for assistance during this crisis, as government urged everyone to stay at home due the coronavirus pandemic.
"I decided to bring out the little I have to present it to the federation to assist some of the most-needy and vulnerable persons with disabilities."
He went on to thank the persons with abilities through their federation for their hard work for contribution towards nation building.
For his part, Mohammed Krubally, chairperson of The Gambia Federation of the Disabled said that the gesture is historic as it is the first time their federation is receiving such an enormous cash donation as a means to support persons with disabilities.
"This is indeed historic in the country. During my tenure as the chairperson of the GFD, no political party or an individual has come up with such a cash amount to support the persons with disabilities, especially in difficult moments."
He said the GDC has displayed a mantle of leadership by coming out to ensure full inclusion of persons with disabilities in their support agenda.
Lamin K. Janneh, who spoke on behalf of the physically challenged thanked the GDC party through their leader Mama Kandeh for the continuous support given to them.
"I am not surprised by this gesture from the GDC leader. This has been the norm towards the people with disabilities."
According to him, this gesture came at the right time as disabled persons, noting that almost 70% of their membership begs for a living.
Read Other Articles In Headlines