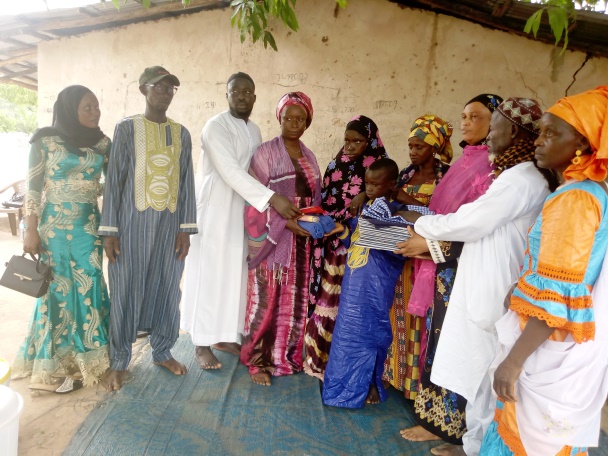 "It's been three years and 10 days since my husband who was out on a peaceful protest was killed. I want to know who killed my husband. The person (s) should be arrested and face justice. Today is also a sad day for me and my family. In fact, it is like my husband is killed today," she said in tears.
She was speaking on Friday in Kanilai during the commemoration marking the three years anniversary of Haruna Jatta. The event was organised by the Foni Youth Development Association. During the anniversary, the association also donated bags of rice and oil to late Haruna Jatta's family and also educational materials to his son.
Mr. Jatta was reportedly killed in June 2017, during a peaceful protest by the communities of Foni who thronged the streets of Kanilai, marching towards the Kanfenda Junction at the main Brikama-Soma Highway with their banners and placards calling for soldiers to leave Foni.
Some of inscriptions on their banners and placards were: "Let the soldiers leave the whole of Foni; "A call for concern and Foni should not be left out or intimidated for any reason."
The protesters demanded that ECOMIG Forces and Gambia soldiers be removed from the Fonis, claiming their lives were threatened.
Ebou Jammeh, the alkalo of Kanilai, said the villagers today are demanding to know who killed their loved one. "We will continue to demand to the government to tell us who killed Mr. Jatta. Many incidents had happened in the country for the past years and most of them have being investigated by the government. So why is Haruna Jatta's death not investigated by the government?
"The way Haruna Jatta was killed is indeed "sad" and that's why gather here today to pray to Allah to grant him Janatul Fridawsi. I want also to thank the association for their continued support to Haruna Jatta's family. I want to also urge them to continue asking the government to investigate the death of Mr. Jatta."
Benteng Sanyang, a member of council of elders in Kanilai, described Haruna Jatta's death as "devastating," saying "every day when I see Haruna Jatta's child, I feel sad."
'We are all Gambians irrespective of whatever the reason might be. Is it that Kanilai is not part of The Gambia? Haruna Jatta's death should be thoroughly investigated and perpetrators must face justice irrespective of who they are or which positions they hold."
He added: "The government must take the lead in ensuring there's justice for Mr. Jatta. This is not about politics; it's about the death of an individual. It's been three years since he passed away and yet we don't get any answer from the government. We're not going to be afraid. We will continue to raise our voice high with regard to Haruna's death."
Almameh Gibba, the secretary general of Foni Youth Development Association, said the association is aimed at supporting the people of Fonis irrespective of their political affiliation, tribes and others.
"It's been three years and 10 days since Haruna Jatta was killed by the "Senegalese Forces" stationed in Kanilai. As an association, we feel it's important to support the family of Mr. Jatta because the family is vulnerable."
He added: "We're raising questions and want to raise our voices high. We want the government to tell us who killed Haruna Jatta. The death of Haruna Jatta is still a concern for us the youth of Foni. We want justice to be served. We have seen the government working towards justice for other people and Haruna Jatta case is left behind. This is absolutely not fair and it's uncalled for."
Read Other Articles In Headlines