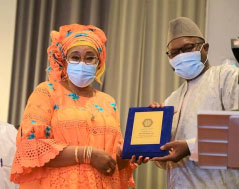 According to her, GRA is also providing tax holidays by means of SICs to SMEs and creating a conducive environment for the private sector to take its rightful place in the economy. "I therefore wish to commend the taxpayers that will be recognised today for their exemplary compliance," she added, while speaking at the GRA Awards Ceremoney over the weekend.
"We know paying tax is not easy but as a tax-based economy, taxes are the quintessence of our economy. They fund public projects such as roads, schools, hospitals, and the entire governance infrastructure. It is therefore pertinent for everybody to contribute their fair share of the tax burden."
"I say a hearty congratulations to those that will win awards today and wish those that will miss out, good luck next year. We hope this recognition today will serve as a motivation for those outside of the tax net to voluntarily comply with their tax obligation."
According to her, on the 20th January 2022, GRA became one of the few public institutions in the country that is currently on the submission of their financial statement and Activity Report to the Finance and Public Accounts Committee (FPAC) of the National Assembly as required by statute.
"This accomplishment came with the imposition of stiff deadlines, leave deferrals and constant probing for updates. To improve corporate governance within GRA, the Board initiated and approved the promulgation of a Board Manual in 2019 to embody their rules and regulations by which the Board governs itself and defining its relationship with management," she disclosed.
"The Board was also central in initiating GRA first Gender and Diversity Policy and in the drafting of the Corporate Strategic Plan 2020- 2024. These reforms, among many, are the reasons behind the excellent revenue performance registered over the years."
"Today I am proud to say that from 2017-2021, GRA exceeded the annual revenue target set by the Ministry of Finance and Economic Affairs by more than a billion dalasi each year.
She stated that the ceremony, now the 4th edition, is one of the initiatives of the Board and management to promote voluntary compliance. She said voluntary compliance is the taxman's darling as it reduces administrative cost for the taxman and compliance cost for the taxpayer.
"It is a win-win for both parties. We therefore urge all businesses in the country to embrace the culture of voluntary compliance to avoid statutory penalty and interest, thereby increasing the cost of doing business."
According to her, the GRA Board, created by Section 5 of the GRA Act 2004, is designed to provide supervisory functions over management and to provide strategic guidance and policy direction for the organisation.
Read Other Articles In Headlines