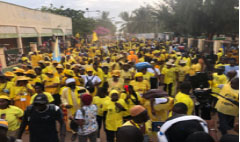 "We should maintain peace and tranquility throughout this election time for the reason that we are one Gambia and one people,"
Darboe, who was speaking before a crowd at Aljamdu village, Upper Niumi in the North Bank Region (NRR) on Saturday, disclosed that the corruption in President Adama Barrow's government supersedes former President Yahya Jammeh's regime.
"I once asked the minister of Lands in Barrow's government that since he assumed office how many lands he has given away? Who are those he gave them to and on what reasons did he give them the lands? But until date the minister never answered me"
Darboe added that "since you have refused to answer my questions, I put it to you that you have sold our lands, and accumulated the money for politics".
Darboe further said: "I challenged Mr. Adama Barrow to tell Gambians where he got the money he bought all those NPP pickup cars and buses roaming around the country since his salary cannot afford them".
"What the former President Yahya Jammeh was doing is exactly the same shoes that Barrow has been wearing since he became president. You were expected to help the people but not the people feeding and enriching you," Darboe said.
"Barrow, even if he doesn't eat a single butut from his salary, cannot afford the vehicles worth millions that he's been ordering in his name within five years and even if his salary is D3 million per annum, yet 15 million for the 5 years in office cannot get him those NPP cars roaming around the country," he added.
"Mr. President, you are involved in corruption practices, you've been misusing your office, you take money from people promising to give them contracts and that is why you are able to get all the money you possess".
Darboe added that "If what I just said is not true, I challenge you to come with evidence to show us that you are not involved in corrupt practices and if you do that, I assure you that I'll ask the Gambian people to give you their votes".
"Mr. President, I challenge you again to tell the Gambians about the US$735,000 that was found in your wife's account from a Chinese company that today has won a contract with NAWEC. We also want you to tell us the cost of the plane you hired by tendering us with a receipt and also where the remaining balance has been spent," Darboe inquired.
He concluded by calling on people to vote massively for the UDP. "For a better Gambia in all sectors, I call on all genuine Gambians to give their votes to UDP."
Read Other Articles In Headlines