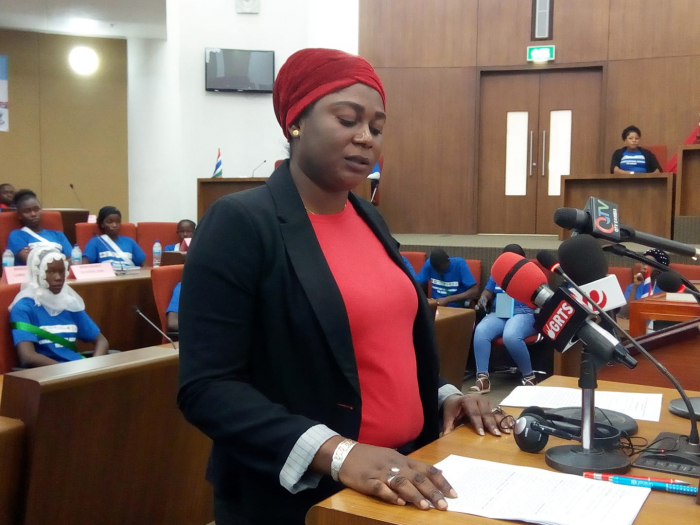 Madam Komma- Bah was speaking during the International Day of the Girl-Child; held at the International Conference Centre in Bijilo, saying "do not be afraid to speak your mind. Speak your truth. Let people know how you feel. If it's important to you, then others must learn to accept, respect, or understand what you are going through."
"No matter how big or small the issue, remember there is a solution to every problem."
"I also know that many of you may be going through some things that you feel you may not be able to handle. I know because I have been there. But believe me, you can rise above all the obstacles," she added.
International Day of the Girl Child is celebrated annually on 11th October to highlight and address the needs and challenges which girls face throughout the globe.
The general aim is to help girls find training and education to help create young successful women. The event also called "Day of Girls" helps to empower girls and support them in fulfilling their human rights.
This year, the global theme was: "Digital Generation. Our Generation."
Consequently, Madam Komma-Bah said as a child-focused organisation, Child Fund doors are open to all girls, their parents or guardians, and all stakeholders who care for the cause of children.
According to her, this year, UNESCO explores how to close gendered digital access and skills gaps, support safe online spaces and leverage the power of technology to advance girls' and women's education, leadership and gender equality and ensure that girls are empowered to maximise their potential both online and offline.
She said UNESCO is demanding national governments to equip girls, and all children, with the digital literacy skills to navigate false information online and prevent its spread.
According to Plan International – a development and humanitarian organisation that first advocated for this day, 90 percent of a total of 26,000 girls from 26 countries say they have been harmed by false information and lies online.
"This is indeed alarming," Komma- Bah added.
"I know that the girls that gather here today are no exception as far as this unfortunate situation is concerned, given the proliferation of unverified content online."
Read Other Articles In Headlines