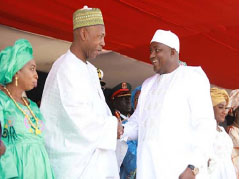 "I ask for prayers from the village and religious leaders for a peaceful election," Mr. Barrow told supporters.
He further stated that he has big ambition for the country, adding people have been saying they want the country to be like Dubai but promised to make the dream come true if supported by Gambians to win another term.
Barrow said he has started making the country like Dubai because he is constructing modern roads that never happened in the history of this country.
"I believe that I'm the doctor of this country because I brought you electricity, roads, bridges, tractors, adjusted salaries, pay alkalolu and more," he said. "I was a businessman and I never worked for government. I believe God met me on my bed and asked me to work for the people and I will continue to do that."
He stated that the politicians cannot bring development to the country, saying he has the desire to bring development in the country, specially the village of Battinjoll.
Minister Bah stated: "I call on religious leaders to pray for peace so that we can conduct the election in a most peaceful manner. I want you to pray for the president because God answers to your prayers."
Barrow promises massive development as he predicts 90% victory
In a similar rally held at Kerr Katim on Thursday, Mr. Barrow promised the people of Niamina East and West a massive development if re-elected president and optimistic of swiping 90% votes in the said districts.
The leader of the National People's Party (NPP) is also optimistic that the people of Niamina still hold onto their grounds in supporting his government to win a second term in office. He added that in the history of his political party, the first political victory he registered was in Niamina through a by-election.
"After December 4th, I will bring developments that will please you all because I am not a politician but a developer. Politicians doubted my crowd during the by-election but I put them to shame by swiping the polls."
He further explained that he got 68% of votes during the by-election and optimistic to have 90% victory as he brands opponents of not having good agendas for the country. He said opposition cannot bring developments, adding that people shouldn't believe in persons who have bicycles and promise people a car.
"All those that have agendas are with me and the opposition are the self-centered people."
The president concluded by assuring Gambians that his plans will be revealed in his subsequent campaigns in Kombo, Serrekunda and its surroundings.
Hamat Bah also reiterated that no one has ever registered the number of developments that President Barrow has done within his five years in office. He assured the people that their "water problems will be solved."
Biran J.S. Sowe, NAM for Niamina West, said his district is 100% NPP and that they are optimistic that after Barrow's victory, all forms of development would take place in his district.
"We were marginalised for years and the NPP report has indicated that we are the poorest district. We need enough water and roads to be constructed in order to link other villages."
Read Other Articles In Headlines