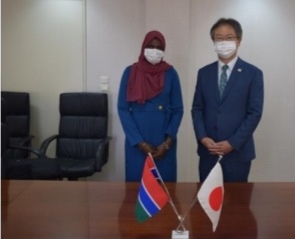 The scholarship holder explained her research plan and was pleased to finally be able to go to Japan despite the postponement of their departure because of the COVID-19. On his side, the Ambassador congratulated her for having welcomed her and wished her the best in her studies in Japan and her future.
This scholar participated in the programme for the year 2020. However, her departure to Japan, scheduled for March 2020, has been postponed due to the disruption of school due to the COVID-19. She will eventually be able to travel to Japan at the end of this month to conduct research for two years in the fields of biology.
She is one of five scholarship candidates, including two Senegalese, one Cape Verdean and one Bissau-Guinean.
The government of Japan welcomes many foreign students every year under its Scholarship Program, and the number of Gambian scholarship holders sent is 3 in the last 5 years in total.
Read Other Articles In Headlines