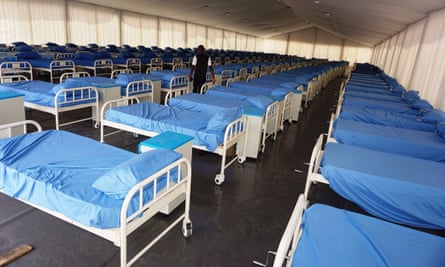 It took almost two months for the coronavirus to reach the continent when Egypt became the first country in Africa and 25th in the world to record its first confirmed case on February 14th, followed by two more cases in Nigeria and Algeria by early March.
As countries around the world battle to contain the spread of the deadly Covid-19 Pandemic which has already claimed the lives of thousands and left many others in critical conditions. African countries have also been stepping up their efforts to contain the virus on the continent.
Situation of African Health System
It is widely known throughout the world that Africa has constantly been challenged by a weak health system; shortage of doctors and medical equipment to say the least.
These acute health deficiencies prevail in almost all countries in Africa despite support they receive from multiple NGOs and Charity organizations such as Doctors Without Borders, Red Cross or the World Health Organization.
In addition, lack of testing materials to diagnose infected people, inadequate resources to address this dire situation and the worrying shortage of ICU beds in most, if not all countries in Africa. For example, we could compare the health system contexts of 2 "developed'' sovereign states like the US and South Africa. For every 20 beds allocated to every 100,000 people in the USA, South Africa, as one of the richest countries in Africa, would only have 9 to allocate for the same amount to people.
Moreover, one major factor which concerns most health experts and Pan Africanists is the high rate of Poverty and hunger around the continent. Although It may seem like a topic that has been historically addressed in the media, Poverty and hunger still serves as a huge stumbling block towards the fight against communicable diseases in Africa as a whole.
Furthermore, health experts have voice concern over the low budget allocated to Health care across the continent which leaves fewer than 50% of Africans without access to modern health facilities. Abayomi Ajayi, Medical Professional from Nigeria said many African countries spend less than 10% of their GDP on health care (Clausen, 2015).The WHO Regional Office in Africa asserts that the Covid-19 will pose the greatest public health challenge ever faced by African states.
Cases of the Covid-19 around Africa
According to the John Hopkins University and WHO, there have been more than 4,369,933confirmed cases in more than 210 countries around the world out of which Africa has accounted for 69,947 cases (As of 13May 2020). The coronavirus reached the continent through persons from hotspots in Asia, Europe and the United States.
While the virus was slow to reach the continent compared to other parts of the world, cases of infection and deaths have been growing exponentially, with slightly low recovery rates at 9.4% according to the WHO's regional Director for Africa. The Northern region of Africa has been the most affected— where the first case in the continent was reported— with 23,731 cases,1,297 deaths and 9,197 recoveries, followed by West Africa with 20,782 cases, 431 deaths and 5,975 recoveries, Southern region has 12,270 cases, 225 deaths and 4,621 recoveries, Eastern region has 6,874 cases, 212 deaths and 2,453 recoveries and Central region with 6,290cases, 245 deaths and 1,978 recoveries.
The African Continent has relatively lower cases compared to other regions. In fact, the number of deaths alone recorded in America or Europe is far greater than the overall number of confirmed cases across Africa.
That being the case, Africa has not yet been hit hard with the Covid-19. Some experts attribute the low cases in Africa to the few numbers of tested people and therefore possible under-reporting of unidentified or undetected cases around the continent due to lack of testing. Either way, the continent has always been extremely vulnerable to large-scale epidemics and pandemics. That is to say, the situation is not expected to last, as medical experts warn the worst is yet to come for Africa and it's just a matter of time before the streets will start piling up with dead bodies according to Melinda Gates, wife of Microsoft co-founder Bill Gates.
Author: Mahamadou Camara,PointCorrespondent in Spain. He is currently studying Global Studies at the Universitat Pompeu Fabra, Barcelona.
Contributors: Eva Martí Maseda, Open Bachelor's Degree,Universitat Pompeu Fabra, Barcelona.
Jordi Anglada Oliva, Global Studies, Advertising & Public Relations, Universitat Pompeu Fabra,Barcelona. Omar Touray, Gambian Blogger.
Read Other Articles In Feature