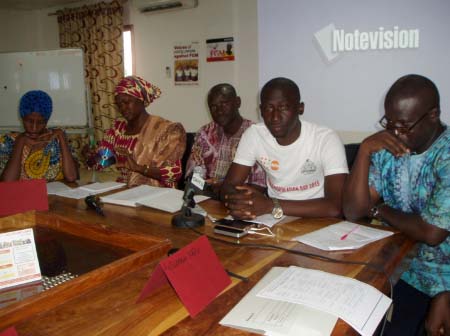 The Network of Gender-Based Violence (NGBV) on Thursday began a 3-day training to equip youth groups with advocacy skills necessary to campaign against female genital mutilation (FGM).
The forum, underway at ActionAid, Kanifing, is focused on the theme "Advancing the agency of young people to accelerate the abandonment of FGM/C".
Njundu Drammeh, executive chairman of NGBV, said the network is "highly committed" to ensure that FGM and violence against women are a thing of the past in The Gambia.
He said the training targets young people because they are "the touch bearers of our tomorrow and are our only hope".
Mr Drammeh said with the personal commitment of the young people, parents-to-be, FGM could be eliminated.
"We hope the participants will make a pledge to ensure that their daughters are not victims of violence and are protected," he said. "The fight against FGM is no little thing and we can only conquer it when we work together with each of us playing his/her part."
Fanta Jatta-Sowe, women's rights programme specialist at ActionAid International The Gambia, said elimination of FGM can only happen through partnership and purposeful engagement of individuals and groups.
The campaign against FGM has been going on for more than three decades in The Gambia but the practice still continues, she said.
"We will not rest until the last in The Gambia is safe from all forms of violence against women or girls especially FGM/C because there is no use for it and no need for it," Mrs Jatta-Sowe said.
Lamin Darboe, executive secretary of the National Youth Council (NYC), said involving young people in the fight against FGM is an investment with targets and outcomes that are realistic.
He said because of the investment on youth against FGM, in the next 5-10 years, The Gambia should be FGM-free.
"This generation has the biggest percentage of young people than ever before in history.So, young people are obliged to make the biggest impact with anything that affects our lives and FGM/C is one of such things," Mr Darboe said.
He said the NYC is willing to continue working with all youth organisations to bring about positive change in society.
Almamo Barrow, acting executive director of ActionAid, said the psychological trimmer that the victims of FGM undergo cannot help in their personal and national development.
He said ActionAid is committed to the cause of ending FGM and all other forms of violence against women and girls in the country.
"We are ready to work with all organisations in the fight against FGM and we hope to be able to end the practice in the country," Mr Barrow said.
He said the 3-day training will help the participants to effect meaningful change towards the eradication of FGM/C in The Gambia. 
Read Other Articles In Article (Archive)