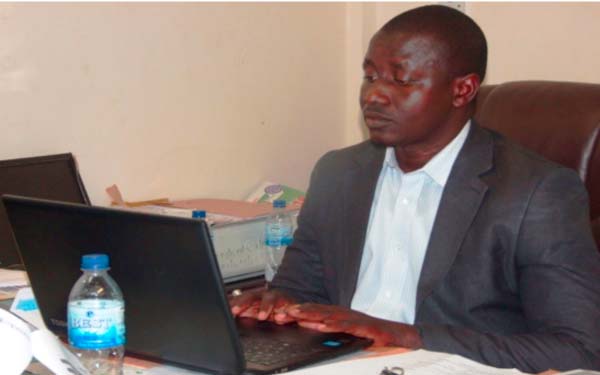 Issue Tuesday 22 March 2016
The general manager, National Enterprise Development Initiative (NEDI), Landing B Sanneh, has said youth matters are among the government's top agenda and, therefore, the establishment of requisite structures and instruments to operationalize the strategies.
NEDI's head made these remarks recently during a press conference held at the agency's main office located along Kairaba Avenue, talking on efforts aimed at curbing youth irregular migration and the formal introduction of the newly-established business incubator by NEDI.
He pointed out that the press conference was meant to introduce to the young people the opportunities available for them in this country, relating to curbing irregular migration and the new incubator.
"I am with the conviction that our strategic involvement and engagement of our young people is of great importance to the future of our dear country. The advent of the National Youth Council, NYSS NEDI, PIA, among others all speak volumes of the government's commitment to the cause of young people."
In the youth development arena are tasks to work on geared towards achieving the set goals and visions of those institutions that were established to empower the young people of this country.
NEDI is a public entity which seeks to work with youths and women to develop their entrepreneurial abilities and competences, for sustainable employment and better livelihood.
"Today we are preparing to work with all relevant partners, including the grassroots communities to change the status quo."
Currently, NEDI is working with National Youth Council and International Organisations for Migration (IOM) and Gambia Commercial Agricultural Value chain management (GCAV) project to train young people.
He added that the objective is support and nurture youth entrepreneurs and startup enterprises, assist youths and youth enterprises in developing bankable business plans and effectively utilize the available opportunities online and offline.
Sanneh pointed out that they provide requisite mentoring and coaching services to youth entrepreneurs for improved business performance, and contribute in scaling up effective youth involvement and participation in the agriculture value chain, for employment creation and food security.
"It also aims to promote awareness on the existing opportunities and potentials in The Gambia to address youth irregular migration."
The incubator will serve as a platform for networking and peer learning among young entrepreneurs, and the vision and mission of NEDI were generated to guide the future transformation of NEDI, as it assumes its new mandate as a public entity.
Lamin Darboe, executive director, National Youth Council (NYC), said as young people the development of this country is their responsibility.
"Assuming that no other person will develop this country for us, we must take the responsibility to develop this country; taking responsibility to develop this country is in various forms, and we must endeavour not to shy away from that responsibility.
"We have seen the impact of youth migration in our families, and almost in every development endeavour in the country."
"If all young people migrate, who will produce our rice, food and trade' so this is a challenge and every one of us has a responsibility in this fight."
He added that it is the youths that the country will rely on for almost all its development endeavours.
"We understand that is not only the problem of young people; it is other duty-bearers who are fuelling this journey and we are using this opportunity in calling on them to invest in this country; give them money to start their own enterprise in this country, just as others are doing."
He added: "The monies you are giving to these young people can be utilized in a better way in the country, to ensure that we are able to grow our economy, provide incomes for ourselves and put food on our tables for our families".
He called on the duty bearers who are contributing in one way or the other to this unfortunate scenario to think twice, and see the better way of investing in young people. He said this "includes our parents, uncles, brothers and ourselves in influencing each other."
"Let us learn from the stories of those who have been there; they know the circumstances they keep sharing with us, and that it is not as easy as we imagining."
Read Other Articles In Article (Archive)