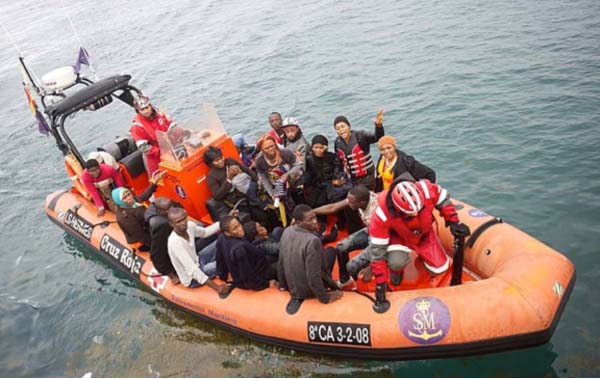 In today's edition of the Youth Forum, we bring you the recent meeting of the European Union and African leaders, and the 2 billion Euros European leaders offered to African countries in exchange for repatriating migrants that have moved to Europe in search of greener pastures.
This is at a time when some African migrants are running for their lives, to escape war, but somehow they have labelled them as "economic migrants."
The proposal of the European Union through European Commission is in the right direction to repatriate the African migrants to their various countries, but the question is whether the 2 billion Euros may be sufficient for all those African countries.
Remember the fact that they have risked their lives, for reasons best known to them, whether they are economic migrants or refugees.
In any case, more attention is needed by African leaders and even the EU regarding the consequences attached to this proposal, and they should think about that before accept it.
2 billion Euros brings very little development in one country, much more to the whole continent.
We are urging the European Union to make some adjustment to accommodate the deserving migrants or to get directly involved in the implementation of the proposed projects at the African level, before repatriating the migrant from the Europe countries.
Repatriation should be the last option or step the EU should take against the migrants.
If EU wants to help Africa and its people, as well as tackling the burdens affecting them, there should be another way to do it than in this way.
We are asking the European Union to revise their decision, by looking at the number of young people who were dying in the Mediterranean Sea and the family members crying.
The funniest part of this migrant issue, especially in The Gambia, is that most of the family members are not aware of their journey until when they are far from Gambian soil; that was the time most of them would call their family members for assistance.
Most of the families played no role, and at one point, I will say, were they in support of this "back way", for the fact that the demands from the young people were not met.
The youths of Africa were heard clearly stating that they are migrating in search of better lives, and not even for themselves but their families.
We are recommending to the EU to take note that a few reasons cause illegal migration, including "Poverty"! Many citizens of Africa are living from hand to mouth even with employment.
 This makes survival difficult, and it is a push factor of migration, since human beings must eat to live.
Think about feeding dependency on young people who are expected to take care of their wives, old parents, sisters and brothers to feed on a daily basis at least three meals a day.
This situation is being never addressed by EU, neither the African leaders in their recent meeting in Malta, and youths should not be compelled to look for a better situation.
A greater number of university graduates in Africa is young people; they are sitting without consideration for employment after investing huge amounts of money on it.
Creating more learning institutions on the continent is a way forward for development. However, not creating platforms where they should recover as far as employment is concerned is a way forward for backwardness.
Skills training schools are provided for young people, scholarships are given sometimes, but the result is not limited to unfortunate youths who do not go to school.
Low income is a factor of migration, which has not been taken care of after 50 years or more, as young people being the breadwinners of their family are earning below average pay.
This is why in Africa even those who have jobs are forced to quit, to embark on this dangerous journey with the expectation of earning higher income in Europe than in Africa.
Many of these migrants have spent their entire savings, some sold their only plots of land, some sold their domestic animals, and some borrowed money from others who are yet to be settled.
The 2 billion Euro is not meant for compensation.
Some migrants, including civil servants and security officers have embarked on the journey to Europe without consulting their employers.
It will be a rights infringement, as some may face possible prosecution or even illegal detention.
The consequence to this can be a conflict among people and on the continent as a whole, that may need more than 2 billion Euros to be settled.
We are appealing through this medium not to repatriate them, because when they are repatriated, one can expect so many formations of gangs and resistance movements which may eventually cause terrorism in many areas of the continent. It can also cause mental disorder to many young people due to over-stress.
It will also worsen the economic status of Africa, because the lives of the people who remain on the continent could not improve. 
Read Other Articles In Article (Archive)