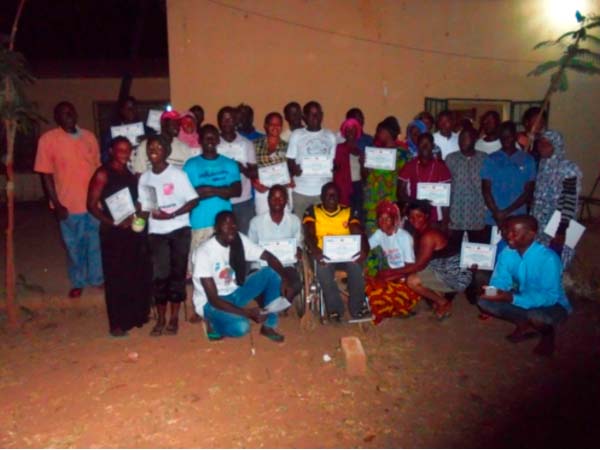 The National Enterprise Development Initiative (NEDI) in collaboration with the Rural Development Institute (RDI) has certified 40 youths and women in the area of business plan development.

Held at the Lower River Region town of Mansakonko, the training course was funded by the Gambia Commercial Agricultural Value Chain Management (GCAV).
This was the fifth batch of 40 youths and women, and the training course was aimed at empowering them with the skills to develop bankable business plans.
It was also meant to scale up youth involvement and participation in the agricultural value chain, through the relevant projects under the ministry of Agriculture, in line with the inter-ministerial partnership between the Youth and Sports ministry and Agriculture ministry.
This project came after the two institutions realised that the young entrepreneurs lack the capacity to produce standard or bankable business proposals, to attract funding for their various businesses from donors and projects.
Landing B. Sanneh, general manager, National Enterprise Development Initiative (NEDI), said this was the fourth in a series of training sessions that NEDI in collaboration with RDI, with funding from GCAV, organised for the youths and women of the country.
He described the training course as very important for the development of the youths and women of The Gambia, saying youth participation in the agricultural value chain is critical to the achievement of the food security of the country.
He said their partnership came to change the diet, shift away from the usual approach of workshops and training to more practical and applicable ways of getting young people being involved in entrepreneurship, and to be more enterprising on what they do to earn their living and secure them employment.
According to him, the training course registered success and they would not turn their back; they would move on and on to get more young people develop business plans, so that they would be able to come up with their own enterprises.
"We as young people should have a starting point, it is possible, entrepreneurship starts with mind, is not the action, once you are able to think of what you are going to do and you start doing something in that line to get to where you want to go, you are an entrepreneur."
He added that since the training activity started, youths were able to develop bankable proposals and NEDI helps them to summit them on their behalf to the projects.
"This will continue, if you develop your plans you have the opportunity to come to NEDI; we will refine it properly, and make it more marketable and help you to summit it to other partners".
He challenged the youths to do more, saying they have to take responsibility themselves first, and then of the community and the country.
Salifu Puye, the governor in the Lower River Region, said as entrepreneurs they need to be persistent, and any venture they are into needs to be related to their needs and the community.
"Evaluate and monitor whatever you are doing as entrepreneurs, and keep well your records.
"Through this you will able to know your successes and failures, advantages and disadvantages, and this will help you to move ahead wisely."
Puye challenged them to be networking, and to build partnerships for the development of their various businesses.
He advised them to respect time and work according to it, as with that they could achieve a lot in their businesses and other ventures.
Abdoulie Touray, monitoring and evaluation specialist, Central Project Coordinating Unit (CPCU), said NEDI is not only a partner, but a very genuine partner.
"By March 2016, our implementation rate was just about 46 per cent; likewise our disbursement rate, but NEDI is one of the partners who have helped us to improve our implementation rate; likewise the disbursement rate from 46 per cent to 56 per cent, as of November, and is even more than that rate."
He said NEDI is one of the IPs that is moving the GCAV project.
"It is a World Bank and Gambia government-funded project looking at the value chain from seed, production, harvesting, marketing, processing until you get the food on your table."
He continued: "We're proud to help NEDI; we know a business plan is a problem; the banks and other donors know it. These matching grants are not moving because groups and youths have limited capacity when it comes to developing proposals or business plans. This is why we are supporting NEDI so that youths and women can come up with bankable business plans, where they can access funds."
Ousman Sonko, lead trainer, said they highly value the training course, saying it was hand-on and everybody was doing their individual work supported by mentors step-by-step.
"We want to make sure that at the end of the day you are able to defend your work and help others.
"In life we have to be positive; we cannot continue to blame our parents, authorities and economy. We must start; better late than never. Young people are ready, given the space and resources, they are ready."
Yaya Colley, board member of NEDI, said GCAV is not only their partner, but a genuine partner, because they support them based on their initiatives and commitment with young people as a national enterprise development initiative.
He said everybody could not sit in an office, saying the most successful people in the world are entrepreneurs, because they have income on a daily basis.
"This entire agricultural project cannot fund you 100 per cent. There is a certain percentage that has to come from you," he said.
He challenged the youths to do some savings, saying it is very vital in the development of their business and for paying their counterpart contribution or percentage to the agricultural projects.
Read Other Articles In Article (Archive)