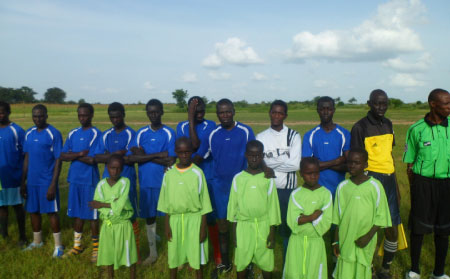 The Ministry of Youth and Sports through the National Sports Council has presented four quality Jabulani World Cup balls to the Sports committee of Kataba village, at the weekend.
The presentation ceremony was held under the watchful eyes of a representative from the Youth and Sports Ministry, the permanent secretary Alieu K. Jammeh, and the development officer at the National Sports Council Abdul Aziz titao Mendy, who described the gesture as a way of supporting football development in the village.
Titao Mendy who disclosed this information to Pointsport yesterday afternoon said, "the idea behind the initiative by the Ministry of Youth and Sports is aimed at supporting the development of football in the area".
According to him, the initiative was met with great joy and pride by the village sports committee of Kataba, who were in attendance alongside the village's alkalo to receive the donation for the first time from the Ministry.
The stuff will be used to support Kataba Sports Committee in their annual summer championship commonly called Naweetan, which is already in progress, Pointsport understands.
Momodou Sabally, a native of Kataba village, is understood to have been the organizer of this year's Naweetan in the area.
He also made some valuable contribution together with Muhammed Jah of Qcell who donated 2 mobile phones to the sports committee of Kataba village with an additional contribution of D5,000 to the aforementioned sports committee, this reporter was reliably informed yesterday.
Read Other Articles In Article (Archive)