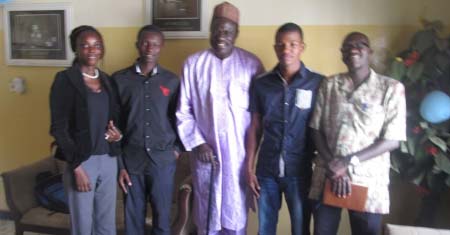 The executive members of the Young Journalists Association of The Gambia (YJAG) on Monday began their traditional tour of media houses in the country.
The members began the tour with a courtesy call on City Limit Radio management where they had a meeting with general manager Babucarr Cham.
Speaking during the meeting, YJAG public relations officer Yahya B. Baldeh said the tour was meant to introduce themselves as new executive members to the media chiefs and to discuss issues concerning the welfare of their members with their employers.
Since Mr Cham is a veteran, the YJAG PRO noted: "We are also here to seek your moral support and blessings."
For his part, YJAG president Nfamara Jawneh thanked City Limit GM for granting them audience, which he said, is a manifestation of his commitment to the wellbeing of young journalists in the country.
He informed Mr Cham that YJAG was founded in September 2007 to among other things champion the welfare of young journalists in The Gambia, foster unity among young media practitioners, build the capacities of its members and promote press freedom and freedom of expression.
According to YJAG leader, promoting the welfare of young reporters is essential for the growth and development of any media house.
In his response, the City Limit Radio general manager welcomed YJAG team to his institution, saying "You are my friends."
Mr Cham noted that young journalists need to be motivated to reach their maximum potentials thus acknowledging that young journalists in the country are faced with many challenges among them are mobility constraints and regulations.
"Notwithstanding we need to motivate you and encourage young people like you, if we are responsible," he said of media chiefs.
Mr Cham added: "I believe in human value and feel like sharing as such I do believe that people should also have access to information that affects their daily lives, while certain classified information such as those dealing with national security should be kept secret."
Media houses, he noted, are garbling with resource constraints as advertisements are not much forthcoming.
He used the meeting to stress the need for certain privileges to be accorded to media houses in the country, especially in taxation since their role is mainly to serve the public.
Mr Cham thanked YJAG for the visit and assured the association of his office's continued support, adding that he would maintain his open-door policy towards YJAG.
Amie Faye, 2nd vice president of YJAG, in her vote of thanks, applauded City Limit GM for granting them audience and for his encouraging words to the association. The tour continues today.
Read Other Articles In Article (Archive)