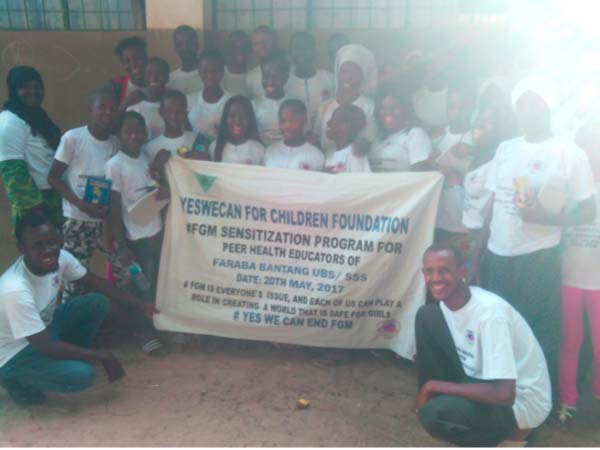 Yeswecan Foundation organized a daylong sensitisation workshop for schoolchildren on Female Genital Mutilation (FGM),at the Faraba Bantang Upper Basic School on Saturday.

The children were sensitised on the effects of FGM as well as how to eradicate the practice in their communities.
In his opening remarks, Musa Julday Mballow, Programme officer for Yeswecan Foundation, thanked all those who attended the sensitization, saying the foundation is based in Busumbala Kombo North District of the West Coast Region.
The foundation is out to advocate and improve the lives of girls and women by helping them to explore their full potential and be productive in the future.
He said the foundation is a youth development oriented foundation established two months ago, adding that it was not an easy thing to advocate for change.
Malang Jawo, secretary general of the foundation, said the programme aimed to train children and teacher coordinators on the effects of FGM.
He said their aim was to completely eradicate FGM in the society because it was harmful.
However, he added, they also understandthat it's a deep rooted tradition, saying through advocacy they would be able to change the mindset of the people.
Jawo said the programme is a six-month project that they are running and the project started one month ago.
"We train schools and community," he said, adding that this was the second school that they have trained.
They also do radio programmes at Sen FM and FMB, he said.
He said Yeswecan for Children Foundation is a foundation to advocate for the rights and protection of the children at all levels.
Amina Gibba, a participant, said the programme was important because it taught them a lot on the effects of FGM.
Modou. S. Bah, a Grade 8 C student, also said the programme was very important to them as children because they have learned a lot about FGM.
Read Other Articles In Article (Archive)