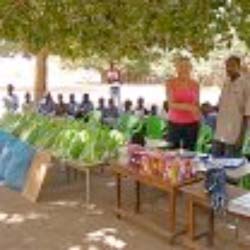 Yagana World Foundation last Saturday donated learning materials to fifty-two sponsored students within the greater Banjul Area and Makumbaya village in West Coast Region, as part of their contribution to the development of education in the country.
The presentation ceremony, held at Makumbaya Village, was attended by the community leaders and parents.
Yagana World Foundation is a charitable organization established in The Gambia in 2000 through the Dutch nationals based in the Netherlands.
Since then the foundation has been very supportive of Gambian students, especially those in the Lower Basic schools.
Speaking at the presentation ceremony, Dinemarie Lanereis, the project coordinator in The Gambia, said Yagana World Foundation's areas of intervention include education, agriculture and health.
She added that the foundation has been very supportive of the people of Makumbaya for the past 14 years.
He pointed out that in Makumbaya village alone they are sponsoring 37 children and are also sponsoring another 15 children from other communities.
"We are also sponsoring some poor children whose parents cannot afford to pay their school fees but are clever and are passing exams in school," she said.
She announced the sponsoring of 10 more children by one of their sponsors Mr Derek Kent based in Holland, who, he said, is working hard to sponsor more students in the near future.
Plans are underway to expand the sponsorship to as many students as possible, she said, adding that Mr Derek himself once visited The Gambia on holidays and has ever since felt there is need to support some of kids in The Gambia in their education.
She said their first sponsorship in The Gambia started with three students and now the foundation is able to sponsor at least 52 children.
Last year two of their sponsored kids' parent's houses collapsed during the raining season but the foundation was able to build new houses for them through two Canadian women who came specially to see what the foundation is doing in The Gambia.
According to her, the foundation has received from the Dutch government an award for supporting the work towards the Millennium Development Goals.
She said 37 mothers of the sponsored kids also received packages containing soap, tea, candle, body lotion, pens and small notebooks.
She posited that 37 mothers received big umbrellas given to them by Emile Du Croix Real Easte of Holland.
Speaking on behalf of the Alkalo of the village, Momodou Manneh thanked the sponsors through Dinemarie for being very supportive of the development of the village.
He pointed out: "We need to help them to strengthen their efforts so our children who are our future leaders can have quality education."
He said the sponsors made it clear "if your kids cannot pass the exams for two consecutive years, your sponsor will transfer to another student who passes his or her exams".
Read Other Articles In Article (Archive)