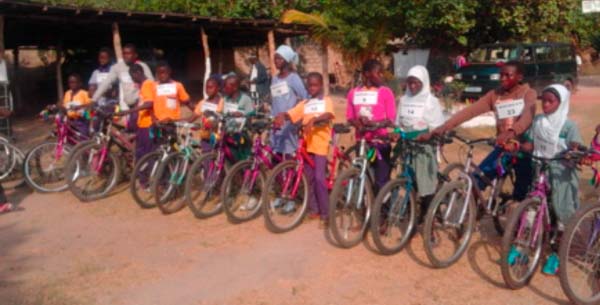 Wonder Year Centre of Excellence (WYCE) Lower and Upper Basic School in Medina Salam village recently conducted a cycling race for its school children.
The race started in Medina Salaam village through Gunjur Mesira and ended at Kajabang in Kombo South.
The aim of the race, according to school authorities, is to ensure school children are more involved in sports activities as well as to consider sport as part of their educational activities.
Speaking at the event, sports coordinator Mr Steve, a British national, thanked people of The Gambia for "their wonderful collaboration" especially the people of Medina Salaam.
He advised school children to take their education serious, noting that education is the key to success and students are the future leaders.
He said they are ready to continue their collaboration and support for the people of Medina Salam and The Gambia as a whole.
Ebrima Jallow, board chairperson of WYCE, described the event as history for the people of Medina Salam and the country at large, as according to him it was the first time such activity was being conducted at the Medina Salaam village.
Mr Jallow urged children to continue practising the sport.
Medina Salam Alkalo Sisawo Touray said their wish is to see the WYCE project extended to other parts of the country to bring more development to the nation.
Omar Touray, youth leader of Medina Salaam, said everyone knows the development the WYCE project has brought to Medina Salaam.
He therefore thanked WYCE Director Lamin Kejera, Madam Gail Barry and the initiators Kate and Hilary, for their support.
Mai Jarjusey of Kajabang also thanked WYCE for their wonderful support towards children, who are the future leaders.
Ms Jarjusey called on all to join hands towards the development of the nation's children.
"WYCE are here to help the entire nation and not just the people of Medina Salaam and Kajabang in Gunjur Mesira," she said.
Ebrima Hydara, a native of Gunjur Mesira, also joined others to commend members of the WYCE project for their support. 
Read Other Articles In Article (Archive)