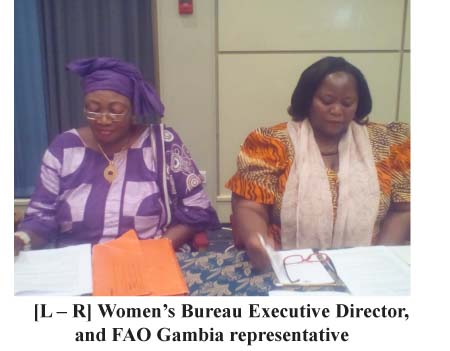 Women's Bureau in collaboration with the Food and Agriculture Organisation recently launched a one-year project dubbed 'Rural Women Empowerment in Agriculture Project' at a hotel in Kololi.

The US$250,000 project is a component of the Gambia Women Empowerment Programme (GAMWEP) funded by the African Solidarity Trust Fund.
GAMWEP is designed to create a conducive environment that will spur women's active participation in profitable sustainable agricultural activities.
The project is also aimed at providing women farmers with better access to land and other productive resources.
Speaking at the launching ceremony, the permanent secretary at the Office of the Vice President and Ministry of Women's Affairs, Nancy Nyang, said The Gambia government and FAO have recognised that the only way to make investments in the poultry sector to expand productivity is to further empower women.
She said the project intervention will complement the effort of the government and other stakeholders by promoting sustained poultry production.
The project is expected to establish women-managed poultry feed mills at village level to significantly improve their income levels and create sustainable sources of alternative livelihoods for women.
Mrs Nyang said The Gambia poultry sector has a huge potential to contribute to national development through household food security, poverty alleviation and diversification of agriculture.
"A sustainable and cost effective broiler and egg industry producing additional meat and eggs will result in the reduction of importation of poultry products thereby making the local produce compete with the imported goods," she said.
"Furthermore, sustainable opportunities for income and employment creation will be opened, thereby improving food security."
Executive Director of Women's Bureau Binta Jammeh-Sidibeh said the majority of women poultry farmers in The Gambia comprise small scale farmers operating under low input system.
The capacity of these people to improve production and productivity and to exploit the opportunities across the value chain is limited by a number of constraints.
"Key among them include inadequate access to veterinary and quality livestock production inputs such as breeding stock, day old chicks; inadequate storage and processing facilities for value addition; poor access to markets; low technical and entrepreneurial capacity, and poor access to agribusiness and financial services," Madam Jammeh-Sidibeh said.
She explained that despite policy commitments, there is a need for improvement in the drive towards gender equity, equality and women empowerment in the agriculture sector by providing the requisite knowledge, resources and policy direction to improve the status of women farmers.
Read Other Articles In Article (Archive)