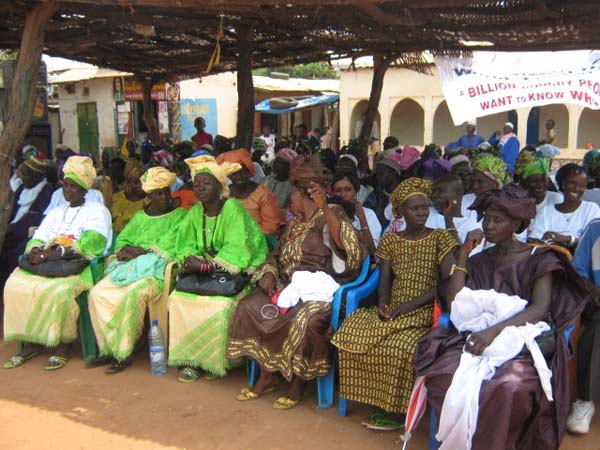 Women farmers across the country have been complaining of challenges facing them in their work, thus affecting their productivity.
The disgruntled women, who spoke in various meetings with Hunger-free campaigners in Bwiam, Soma, Farafeni and Brikamaba in Western, LRR, NBR and Central River Regions, respectively complained of the lack of farming implements and fertilisers, which they indicated had culminated to poor productivity.
Isatou Sillah and Nyomo Sarr were unanimous in their words when they complained bitterly about the major constraints facing them as farmers.
 The issue of untimely availability of fertilisers was also prominent in the speeches of various speakers.
Bintu Bafane and Mansata Jabbi, who spoke on behalf of women farmers in Brikamaba on Thursday appealed to the government and NGOs to come to their rescue, to enable them grow more food for self-sufficiency.
Sambou Dampha, a renowned farmer in the NBR also appealed on behalf of women farmers to help them with farming inputs, urging the government to provide them assistance in the form of farming implements, market outlets and storage facilities.
CEO Kerewan Area council, Tamba Kinteh, revealed that there is extreme poverty in the rural Gambia.
"35% of rural household fall below the food poverty line, compared with 5% in urban areas and just 4% of those in the Greater Banjul Area," he stated.
According to him, NBR has a poverty prevalence of 45%. But he noted that agriculture is the only sector that can improve household food security and reduce poverty. He also shared similar sentiments with women regarding their challenges.
He commended Action aid The Gambia and their partners for the Hunger-free campaign.
Jainaba Nyang Njie of ActionAid commended the women for their hard work and contributions to national development, despite numerous challenges confronting them.
"We believe that if woman are empowered, they can simply eradicate hunger," she stressed.
She appealed to land owners to give women farmers land to use for their farming activities.
Read Other Articles In Article (Archive)