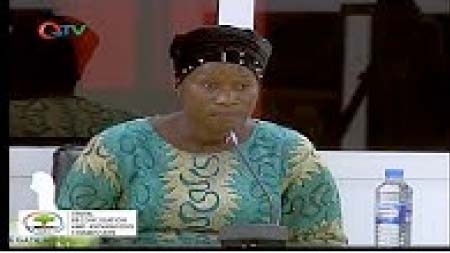 (Tuesday 15th October 2019 Issue)
Bintou Nyabally, a witness who testified before the TRRC on Monday has said that United Democratic Party (UDP) militant Ousman Ceesay was shot by soldiers in 2001, after having a discussion with the deputy party leader of APRC Fabakary Tombong Jatta in his residence in Tallinding.

"In 2001, a day before election, I was standing around Fabakary Tombong Jatta's compound and saw soldiers standing with him (Mr Jatta) and they were talking and facing us with guns. Later, they shot Ousman Ceesay alias Oustass on his forehead and I heard people saying Lamin kill him."
She said she couldn't tell what led to the shooting but she knew that the soldiers were operating on orders.
Nyabally said after Ousman was shot, the soldiers wanted to take the body but the UDP militants didn't agree which led to an argument. "During the argument, paramilitaries who joined the soldiers fired tear gas to disperse people. The militants also stoned them and the Paramilitaries started to beat some people with their batons."
The witness further stated that the Army commander at the time, Baboucarr Jatta arrived at the scene and asked them to stop and they did. "I was beaten with a baton and my body was swollen. I also saw some people who were bleeding," she said.
She said she worked at Sea Front in 2016 but she left because of threats. "I used to attend my uncle Solo Sandeng's court sitting where a solider once told me that he recognized me and that's why I left my work because it was not safe."
On whether she knew about Sadibou Hydara's death, the witness testified that Sadibou is her uncle and she was informed that Hydara died due to high blood pressure. "I don't believe that because we never know him as high blood patient and I know that before you enter the army, you must be checked."
"The 2001 elections was won by APRC and they were celebrating while insulting us, I always insulted them and I had a fight with three of them."
Read Other Articles In Article (Archive)