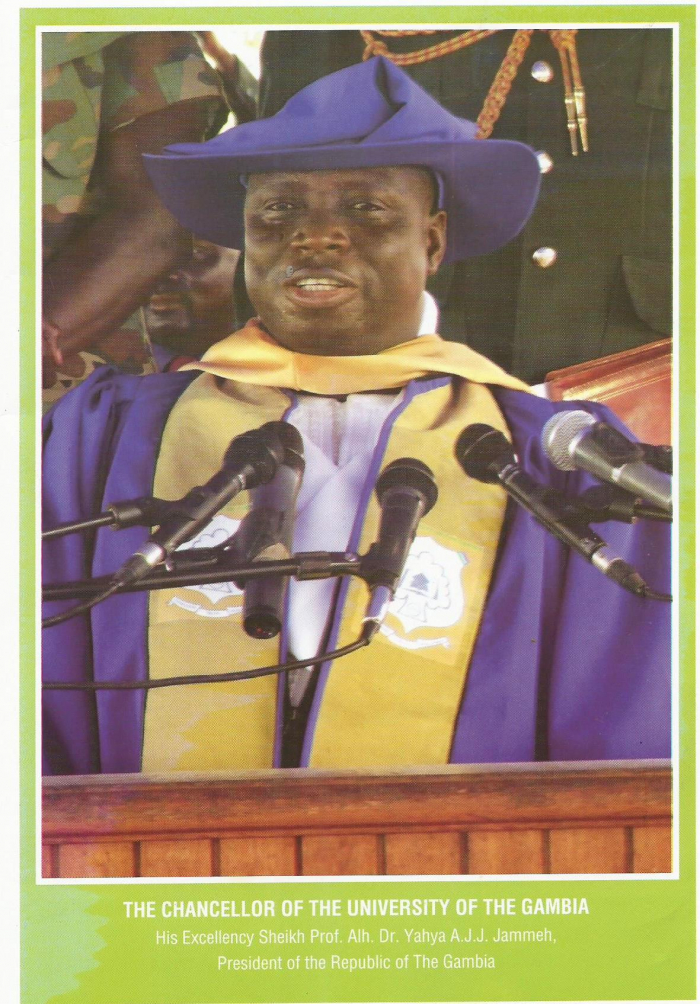 President Yahya Jammeh has said he believes in practical economics, meaning what he could see, not mere figures.
In his address at the 8th graduation or convocation ceremony of University of The Gambia (UTG) and the Gambia College held at the July 22nd Square in Banjul on Friday, President Jammeh said: "I do not believe in growing economics where GDP is growing at 10 to 20 per cent and your people are becoming beggars and dying across the Atlantic. I don't believe in those statistics; I believe in practical economics of what I can see.
"I do not care about one percent economic growth as long as Gambians are getting a better meal everyday, their breakfast, lunch and dinner could improve; that is economic growth for me."
President Jammeh said he was emotional because Allah had given him victory over "enemies of progress, prosperity and peace".
He said that when he has more people going to school, he is very grateful to the Almighty Allah; that children of farmers and fishermen and even beggars could go to the university and would hold the highest distinctions in the academic world where they would be respected the world over.
"As you graduate today, you will be faced with challenges. Victory is not measured by the things that fall from the silver platter given to you. Real success is the ability to overcome obstacles where everybody expects you to fail," President Jammeh told more than 3700 graduands.
"Let me also assure you that in life there will be those who would like you and those who would not like you. You have a choice to make. Many a time, a brilliant graduate would fall prey to unscrupulous people who are bent on nothing but corruption and you end up in jail," he said.
He also said they should remember that if they take anything that does not belong to them and enrich themselves with it they would end up in jail or in hell in the next world.
He urged them to strive for what they could get through their sweat so that in the future they would be able to proudly explain to their children about their past and present situation.
He said he would be proud to explain to baby Muhammed, his son, how he got to this point through hard work and belief in Allah and the love for his country.
"In life you have two choices to make one: the good and the bad, do what is right fear nobody because the Almighty Allah will be on your side; do what is wrong, be ready for the consequences without blaming anybody," said President Jammeh.
"Many a time I dismiss somebody and the person would say oh I have been reported. If you come to me and say I have been dismissed because somebody reported me, do you expect me to sympathize with you: no because even the donkey will not bite someone that is feeding him," he said.
"If somebody reported you to me that this guy is doing wonderfully well, working hard, do you expect me to dismiss the person," he asked.
He says what is expected of a good citizens is, if somebody is doing a bad thing, advise him or stop him and if you could not do that get somebody to stop him and that person is the boss and the boss would dismiss him.
"Young men and women, you are eager to succeed," the President told the new graduates. "Your success will not be based on marabout; some of you if you follow these marabouts they would become rich and you end up in jail. There are people who are in jail because of marabout,"
President Jammeh continues: "Your best marabout in the first place is your heart, your mum and dad and your best guide is the Almighty Allah and your religion. Don't even count on me or living beings because we will all die one day and if I die today and you are counting on me tomorrow what are you going to do," he said.
He urged the new graduates to believe in themselves, the Almighty Allah and their parents and they would prosper.
UTG Vice Chancellor Muhammed M.O Kah, in his speech, said 726 of the new graduates graduated with various degrees, 20 received their graduate or masters degrees, 13 MBA's in collaboration with the Amity Universities in India through their E-learning programs and 7 with Masters of Science in responsible tourism in collaboration with Lease Metropolitan Universities in the United Kingdom.
He said they also have 3001 students who received diplomas and certificates from the Gambia College among whom many could not be present because they were out of the country serving in various schools.
He said he felt satisfied and joyous about the graduating students and congratulated them and their families on the successful completion of their studies.
He also said they are very proud to be associated with the success of the students, adding that their hope and trust would not only change their futures but that of their families, communities, their beloved country The Gambia, Africa and humanity at large, which is what is expected of them by their chancellor.
He added that as they celebrate let them return gratitude to God and thank profoundly their chancellor for his boldness and vision to bring university education to the doorsteps of every Gambian irrespective of socioeconomic standing.
He said the state of the University of The Gambia is stronger, adding that the rich history of the UTG had evolved from inspiration to impact putting more emphasis on teaching and research with a view to achieving the long-term goal of the university.
He said the UTG is fully cognizant of the fact that the world changing discoveries has to be nurtured, adding that he is aware of the expectations placed on them to be a developmental university substantively addressing the needs of society, fully engage in innovations and coming up with solutions to socioeconomic problems facing The Gambia, Africa and beyond.
Their key objectives, Prof. Kah noted, are to provide excellence in quality teaching and research and to benchmark the UTG against peer institutions, adding that they are well under way to achieving that objective.
The degree and diploma certificates were received alongside various awards of cash prizes and other precious items by the deserving students.
Read Other Articles In Article (Archive)