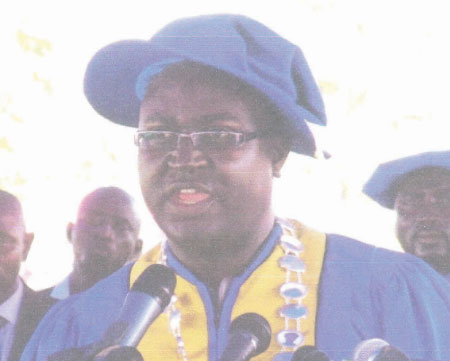 The University of The Gambia last Thursday held its 7th convocation ceremony, which saw the conferring of masters' and bachelors' degrees on 453 students, out of which 14 received a masters degree in their various fields of studies.
The ceremony, held at the new University of The Gambia village in Farababanta in the West Coast Region, also witnessed the awarding of diplomas and certificates to 1726 Gambia College students.
This year's graduation comes just nearly two years, in June 2010, when the UTG held its 6th convocation ceremony, in which a total number of 486 students were conferred with masters and bachelors' degrees, nine of whom underwent post graduate studies in African History.
That year also witnessed the awarding of diplomas and certificates to 897 Gambia College students.   
Presided over by President Yahya Jammeh, who is also the Chancellor of the UTG, the ceremony, which saw the inauguration of the UTG village and the launching of the UTG Science and Technology Park by President Jammeh, was graced by the Speaker of the National Assembly, Cabinet ministers, diplomats, among others.
Speaking on the occasion, President Jammeh said this year's ceremony is particularly captivating in that in the midst of the 2011 graduating class are both home-trained doctors and the first crop of home-grown law graduates, who now sit in the courts to contribute to the country's justice delivery system.
President Jammeh told the graduating class that his government's objective or wish is not to see UTG exist not as an ordinary educational institution, but as a world-class institution of enviable repute.
"However, achieving world-class status will not happen as a result of a wish or a pronouncement, but requires hard work and a clear understanding of relevant international standards and criteria, as well as the adoption of internally recognized performance indicators and, of necessity, mobilization of sufficient resources," he stated.
The success of such efforts, he went on, will ultimately be reflected and measured by outcomes that include the quality and contributions of the graduates that are produced, the research and creative activities of the faculty, community engagement in university projects and the university's contribution to world knowledge.
Noting that it is evident that the UTG cannot become a recognized world-class university simply by declaring it, President Jammeh said this status can only be conferred by other world-class universities or by appropriate academic associations that regularly rank universities around the world.
"To translate a world-class status to the realities of the Gambian situation, UTG will have to articulate a new focus leading to a national knowledge-based economy that is characterized by economic outcomes derived from the creation and application of new knowledge and discoveries," the Gambian leader noted.
According to him, a new breed of learners has emerged, and these learners are anxious to have access to all the information they need from anywhere, at any time, and for any subject.
The UTG, he added, has to respond to all these needs by creating new learning communities and space in which connectivity serves as the key to individual development and academic success.
While commending the Government of the Bolivian Republic of Venezuela for financing the construction of the University Village, the Gambian leader also thanked the Vice Chancellor and the entire UTG community on their achievements thus far, and for making the convocation a success.
Prof. Muhammed Kah, Vice Chancellor of the University of The Gambia, said the past academic year and a half has been one of celebrations, a momentous time in the university's history.
The 2010/2011 academic year, Professor Kah explained, was also one of transformative discoveries and ideas, and a time to reflect on what has made our tremendous achievements within a decade possible.
"The rich history of UTG has evolved from inspiration to impact and we are putting more emphasis on supporting teaching and research with a view to the long-term future of the University," he said.
According to him, UTG is fully cognizant that world changing discoveries and ideas have to be nurtured and are aware of the expectations placed on them to be a developmental university, fully engaged in innovations and coming up with solutions to the socio-economic problems facing The Gambia and beyond.
The president, Professor Kah said, has alerted Gambians through his declaration of 2012 as Year of Science, Technology and Innovation and that software and innovation are keys to modern day economic "architecture".
Reforms, he added, must include these, which should be built into national agendas and strategies by ensuring their success in academic institutions as a prudent approach to economic reforms.
He noted that nations that take software and innovation seriously hardly regret it, and have witnessed positive transformations and accelerated economic growth leading to a larger middle class, while reducing youth unemployment.
Other speakers at the ceremony included Alpha A. Khan, chairman of the Gambia College Governing Council, Dr. Momodou Tangara, chairman of the UTG Governing Council, Lieutenant General Masanneh Kinteh, chief of defense staff (CDS), Momodou L. Tarro, acting Registrar UTG, Dr. Mariama Sarr-Ceesay, minister of Higher Education, and Fatou Lamin Faye, minister of Basic and Secondary Education.
Read Other Articles In Article (Archive)