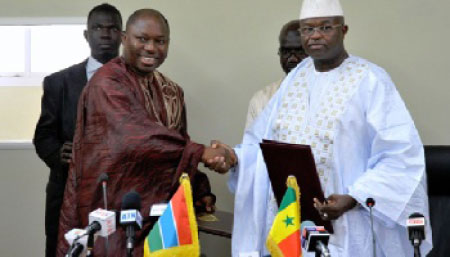 The construction of the trans-Gambia bridge will begin before the end of 2012, Mambury Njie, the Minister of Foreign Affairs, International Cooperation and Gambians Abroad, said in Dakar on Friday, according to APA news agency.
The move comes after the signing of a Memorandum of Understanding (MoU) between the Gambia's minister of Foreign Affairs and his Senegalese counterpart Alioune Badara Cisse for implementation of the project, under consideration for more than 30 years.
The project, financed at 100% by the African Development Bank (ADB), is estimated at €74.5 million equivalent to US$100 million, and should be completed in 2017.
As an official of the ADB underlines it "there were much economic factors than political which delayed the starting of the project. But the two countries showed goodwill and the negotiations ended up succeeding."
Analysts believe that the construction of the bridge, measuring 942 metres in length, is good news for both Gambia and Senegal and West African trade in general, since the interior traffic has over the past decades been limited by the absence of a road link which makes it possible to cross the Gambia river, an essential link of the Dakar-Lagos corridor.
The project is expected to allow the opening-up of Casamance area on the south of Senegal, which suffers particularly from its geographical separation with the north of the country.
Of the total sum of €74.5 million for the project, the ADB has offered €71 million to The Gambia as grant, while Senegal will take the €3.5 million as loan.
It is also expected that the road which connects the bridge to the South of Senegal, the section of Keur Ayib-Sénoba, Farafenni-Bounkiling, will be renovated as part of the project.
The property, maintenance, management, exploitation and the safety of the Trans-gambia bridge, will be entirely for Gambia.
To be completed within a timeframe of five years, the project will help bring to fruition plans which the governments of The Gambia and Senegal have had for many years, to create free traffic flow between the northern and southern parts of each in order to promote free movement of persons, goods and services between them and other countries of the Economic Community of West African States (ECOWAS).
Read Other Articles In Article (Archive)