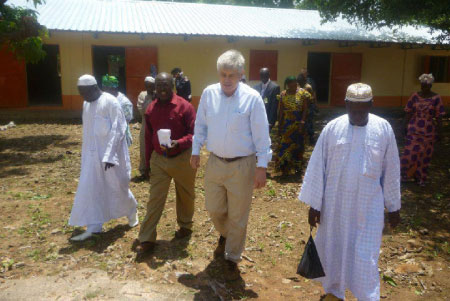 The United States Embassy in Banjul Friday officially inaugurated two US Department of Defense-sponsored schools in Mbollet-ba and Kerewan communities respectively, in the North Bank Region.
Two blocks each with three classrooms were inaugurated in Mbollet-ba, whilst another two blocks each with three classrooms, and a renovated block were inaugurated at the Kerewan basic cycle school.
Speaking at the inauguration ceremony, the US ambassador to The Gambia, Edward M. Alford, reaffirmed that his government will continue to support the Gambia's education sector, thus complementing efforts in improving education service delivery at the grassroots.
Ambassador Edward noted that the provision of these classrooms would help to improve and enhance a conducive learning environment for students.
He thanked the Gambia government for their efforts in building schools in the provinces for the attainment of quality education.
Receiving the keys to the classrooms on behalf of the Gambia government, the ministry of Basic and Secondary Education in particular, the director of the Regional Educational Directorate, Sait Saine, commended the donor for what he called their invaluable contribution to efforts at attaining quality education in the country.
The move, he said, clearly demonstrated the love and concern the American government has for the children of The Gambia.
Saine used the opportunity to underscore the importance the ministry attached to the provision of quality education in the country, while reiterating that this support would enhance and complement this effort with a view to ensuring that the set MDGs for education are attained by 2015. 
He used the opportunity to call on parents to continue sending their children to school so as to enable them complete basic education, which he said would contribute to poverty reduction.
The governor of the region, Lamin Queen Jammeh, for his part, told the gathering that the government of the Gambia has given priority to the education sector, with the objective of ensuring that students continue to access relevant teaching and learning materials to improve and enhance a conducive learning environment for teachers and students.
Also speaking at the ceremony was a US Navy representative, Lt. Commando Justin Goss, who reaffirmed the US Department of Defense's commitment to support the education sector.
Read Other Articles In Article (Archive)