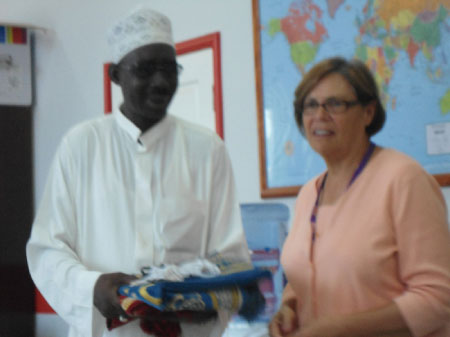 The United States of America has and will continue to respect all religious denominations, a senior United States diplomat in Banjul has told heads of Islamic institutions in the country.
Mrs Cindy Gregg, charge d'affaires at the US Embassy in Banjul, was speaking Tuesday afternoon at the American Corner where she presented, on behalf of the Embassy, Ramadan and Eid-ul Fitr gifts to the five biggest Islamic institutions in the country.
"We want to make sure that we are open to all religions, and it is also important that we honour your religion, especially in the Holy month of Ramadan," she said, adding that this is why the Embassy gives out Ramadan and Koriteh gifts annually.
According to her, the gesture is part of the United States Embassy's efforts in honouring Muslims during the holy month of Ramadan and the Koriteh feast.
The beneficiaries are Imam Malick Islamic Institute in Kanifing; Ummul Qura Foundation- Nurdin Isalamic School in Latrikunda; Sheikh Mass Kah Islamic Foundation School; Muslim High School; and Bilal Boarding School.
Each of the five institutions received items for their mosque or prayer grounds including two big plastic prayer mats; two medium plastic prayer mats; one loud speaker to call for prayer; two single praying mats and ten praying beads.
The US diplomat, among others, highlighted the activities and programs the embassy, especially at the America Corner, where people of all ages, including Islamic students, meet to share ideas, read and learn new things.
Dilating on the importance of education, Mrs Gregg said education is the way to the future. "It is also important to the Islamic religion," she added.
Speaking on behalf of the beneficiaries, Alhagie Ousman Jah, Executive Director of Islamic Centre for Harmonization of Schools of Thoughts and member of the Cadi appeals' panel of the High Court in Banjul commended the US government through its diplomatic mission in Banjul for their foresight in donating to Islamic institutions in the country.
"Islam is all about unity and living together in harmony, and we know that the United States respects religion, through which the whole of mankind can come together as one family under one roof," Jah noted.
According to Ousman Jah, the ceremony signifies the call for people to come together to unite themselves under one umbrella of humanity.
Alhagie Essa Jawara, proprietor of Bilal Islamic Boarding School, also commended the Embassy for the support, assuring them that the donated materials will be used wisely.
Read Other Articles In Article (Archive)