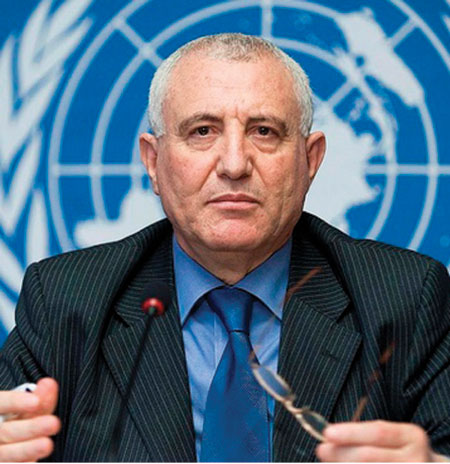 The United Nations special envoy for West Africa yesterday held talks with President Yahya Jammeh at State House on a wide range of issues, especially peace and stability in West Africa.
Said Djinnit told waiting reporters shortly after his talks with the Gambian leader that his mission to Banjul was part of his regional consultations with the leaders of West Africa.
He stated that he used the opportunity to have an exchange of views with Jammeh on the situation in West Africa, especially areas of concern for peace and stability.
"Also we obviously discussed at length, the situation in the Sahel, Mali and in Guinea Bissau," Djinnit told waiting reporters.
According to him, his discussion with the Gambian leader also touched on other issues like the challenges of drug trafficking and organized crime in West Africa. 
Noting that he found his discussion with President Jammeh very enlightening, the UN Secretary General's envoy said the UN is very much worried about the situation in Mali and Sahel region in general.
"As far as West Africa is concerned, the UN has been involved together with ECOWAS and the African Union and other partners in seeking a solution to the crisis in Mali, because the crisis is complex with a combination of challenges, including the threat of terrorism not only in Mali but for the whole region," the UN special envoy noted.
Djinnit further told reporters that the Sahel region went through a very difficult time in terms of the military situation and drought.
"So all that made the situation difficult, and it took the UN sometime to come together as an international community," he stated, adding that thanks to a meeting convened by ECOWAS, UN and the AU on 19th October 2012, the UN was able to build a partnership with Mali and also forge partnership with the international community on the road map for helping Mali.
The road map, he added, composed of a number of pillars, ranging from the strengthening of the transitional institutional arrangement - because UN also recognized that it will support Mali, but they should be in the forefront and playing the central role - to elections, because that also is part of the solution in Mali, and the situation in the North.                  
Read Other Articles In Article (Archive)