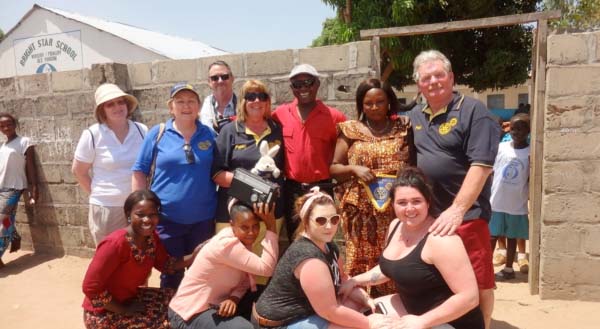 Royden Revolve Rotary Club of UK in collaboration with the Rotary Club of Fajara on Tuesday handed over school furniture, among other stuffs, to Bright Star Nursery and Lower Basic School at Old yundum.
The donated materials included tables, chairs, dustbins, bibles, and writing materials.
Speaking at the presentation, Madam Betty Gomez, headmistress and founder of the school, said Bright Star started in 2002 with only seven children but it has now been expanded to "a very big school".
The school was upgrade to a primary school in 2012 and it currently has up to grade 5; there are plans to increase it to grade 6.
Madam Gomez said the school started to be in touch with Royden Revolve Rotary Club through its president, Pasty Dodd, in 2013.
Since then, the club has been supporting the school with a lot of educational materials and other stuff, she explained, adding that the first consignment of materials was donated to the school in January 2014; another one also came in November of the same year.
"We are grateful to Mrs Dodd for her contribution towards the advancement of Bright Star Nursery School.Through the support we received, all the old furniture of the school were removed and replaced with new ones," the headmistress said.
She promised that the donated materials will be put into good use and will be monitored by the teachers to ensure longevity.
However, Madam Gomez explained that the school is still confronting with some challenges such as inadequate toilets, lack of electricity and drinking water as well as inadequate classrooms which leads to overcrowding of students in the few classes available.
Sainey Manneh, public relations officer of the Rotary Club of Fajara, said the two rotary clubs have been partnering with Bright Star Nursery School for "a long time now".
He commended the UK rotary club through its president, Pasty Dodd, for their continued support to the nursery school.
Mr Manneh said the two rotary clubs will do everything possible in collaboration with their partners to provide electricity and water supply to the school as well help in the expansion of the classrooms.
However, he urged the school administration to think like business so that they can raise money for themselves for the sustainability of the school in future.
For her part, Pasty Dodd of Royden Revolve Rotary Club expressed her delight for being able to positively touch the lives of Gambian children, promising that the UK club will continue supporting the welfare of the school children.
Read Other Articles In Article (Archive)