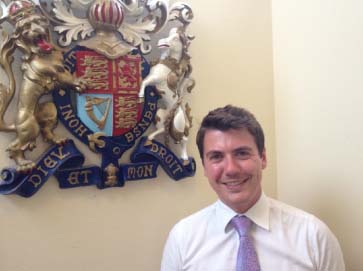 The UK Embassy to The Gambia has recently partnered with the Gambian Chamber of Commerce and Industry (GCCI) to provide the GCCI with funds to hold a number of important business forums which should inform Gambian business operators and policy makers on new initiatives and policies. These forums should help improve business standards and the quality of products and service delivery offered by local businesses.
The forums will give an opportunity to discuss areas such as 'Public/Private Partnerships', 'Intellectual Property Rights', and 'Developing Policies to Encourage Foreign Direct Investment'.
Commenting, UK Deputy Ambassador George Sherriff said -
'I am delighted we are able to support the GCCI with funding to be able to hold these seminars which I hope will be of interest and use to the local business community. The funding provided has come from the UK's 'Prosperity' agenda which promotes sustainable global economic growth and works to create a transparent and strong rules based international economic system. The UK Embassy is committed to helping the GCCI strengthen the local investment climate and create greater enterprise and business innovation in The Gambia'.
GCCI CEO Alieu Secka thanked the British Embassy for the support to the private sector, in line with the current year's theme of 'Building Partnerships' and said that the UK ranked 3rd for exports from The Gambia accounting for over 31 million Dalasi export in 2013 according to GBOS.
Read Other Articles In Article (Archive)