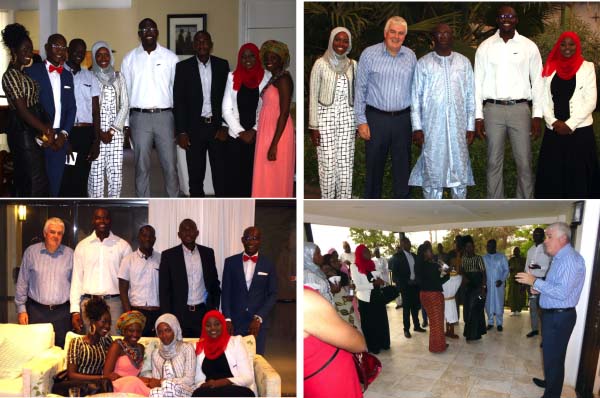 (Wednesday August 31, 2016 Issue)
UK Ambassador to The Gambia, Colin Crorkin, held a cocktail reception at the Ambassador's Residence to congratulate and bid farewell to nine Chevening Scholars selected from The Gambia.
These scholars will follow a one-year Master's programme, all expenses paid, at UK Universities for the academic year 2016/2017.
The event was graced by the Minister of Health and Social Welfare, Dr Omar Sey, Governor of the Central Bank of The Gambia, Mr Amadou Colley, members of the Chevening Alumni, British Embassy Banjul staff and invited guests.
Ambassador Crorkin took this opportunity to wish the scholars a successful programme, saying: "This is a unique opportunity to develop networks that will benefit the scholars, their ministries and organisations and, of course, The Gambia.
"The allocation of scholarships to The Gambia has increased significantly over the past two years to the point where we will now have 20 scholars returning to The Gambia within two years which would previously have taken 10 years to achieve."
Isatou Jagne, who will be studying Epidemiology, said: "The Chevening award is phenomenal mainly because of the networking opportunities and its highly regarded Alumni. Chevening is my window of opportunity. The experience so far has been surreal. I cannot wait to engage, explore and enjoy my Chevening journey."
Momodou Cox, in his remarks, said he is honoured to be among the first MRC Unit staff to be awarded such a prestigious scholarship.
"This will give me the unique opportunity to pursue a one-year MSc in Immunology at a world-leading centre for research and postgraduate education in public and global health."
Kumbale Goode, who will be undertaking a Master's in International Technology Management, said a Chevening scholarship meant a lot to her.
"Getting an opportunity to pursue your dream is the best thing that could happen - especially when I thought it might be unrealistic," she said, adding: "The opportunity that the award presents scholars is far more than financing - it's an opportunity to build a nation, one person at a time."
Kaddijatou Manneh will be studying Global Entrepreneurship and, according to her, it was "surreal until last evening when my colleague scholars and I met with renowned people in The Gambia at the reception".
She added: "The Chevening journey is an opportunity to develop ourselves but more so to come back and develop our motherland. I could see in the eyes of all scholars the desire to go out and put this opportunity to maximum use. Pursuing Master's degree was a dream for me, now it is a reality."
Abdulrahman Bah, who will be studying International Commercial Law, said "receiving the prestigious Chevening award to me is a life changer".
He said further: "This award will build my capacity in my area of speciality and afford me the opportunity to network with the thousands of distinguished Chevening Scholars all around the world.
"It goes without saying that the ultimate beneficiaries of this award will be the Gambian people as we all look forward to coming back home and contributing our knowledge to nation building."
Applications for Chevening Scholarships for the 2017/2018 academic year are now open to Gambian students and will remain open until 8 November. All eligible persons are encouraged to apply via – www.chevening.org/apply
Read Other Articles In Article (Archive)