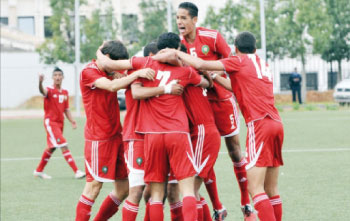 All is set for the Gambia U-20 encounter against Morocco later today in Casablanca in the CAF youth Championship qualifiers.
The Gambian team, which left Banjul earlier this week, is headed by confident Coach Lamin Sarr, who is looking forward to a positive result against the junior Atlas of Morocco.
The team, which enjoyed a bye from playing in the preliminaries, is expected to beat Morocco and meet another opponent before booking a place in the CAF Youth Championship in March 2013 in Algeria. The Junior Scorpions are scheduled to play at 10pm.
Algerian trio Sofiane Bouster, referee, who will be assisted by Mohamed Mounir Bitam Bouabdallah and Amari were appointed by CAF to officiate today's encounter.
The fourth referee is Algerian Mohamed Bichari, Mali's Boubacar Thiam is the match commissioner.
Moroccan Coach Hassan Benabicha as part of preparation for today's crucial game against the Gambia said on defriff.com that the team had passed through a good preparation and friendlies.
"Indeed, we followed an extensive preparation including testing, physical, technical and tactical and identified opponents of different calibres," he said.
He continues: "We moved to Jordan where we met with local teams of excellent size. And later, we returned to Casablanca where we continued our preparation with friendlies like the one against Racing Club of Casablanca Abdelhak Mendoza," he reveals.
The Moroccan team's youngest player playing in the national championship, Hafiz Hamza, is the only professional player who comes from the French club Angers.
"I'm really proud of this group of which most players are just entering their 18th year. The group also, thanked God, suffers no injury," says Benabicha.
"Indeed, all that is known of Gambians is that it's a good group, they beat their Moroccan counterpart, two years ago and its high ranking allowed the Gambia to remain free of the first round," adds the friendly Hassan. In is last word Benabicha Hassan was reserved for the unconditional support of the public.
The return leg will be played between 10 and 12 August in Banjul.
Read Other Articles In Article (Archive)