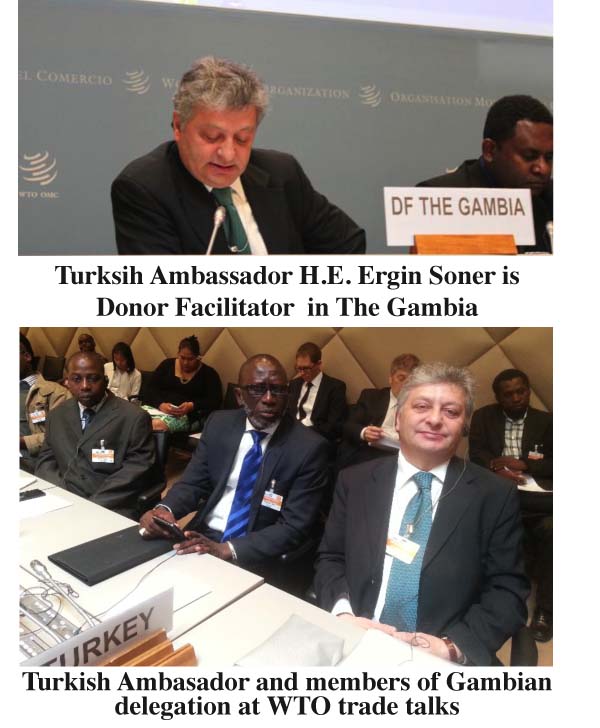 (Issue, Tuesday 31st March 2015)
H.E. Ambassador Ergin Soner, as the representative of Turkey, who has been performing the duty of Donor Facilitator (DF) country for The Gambia, attended, along with a Gambian delegation, the recently-concluded Enhanced Integrated Framework (EIF) Global Platform held at the World Trade Centre (WTO) in Geneva from 17 to 19 March 2015.
The EIF is a multi-donor programme, which supports Least Developed Countries (LDCs) to be more active players in the global trading system.
Ambassador Soner was invited to the Global Platform due to his role as a Donor Facilitator  in The Gambia. 
Bai Ibrahim Jobe, national coordinator for EIF, and Modou Touray, programme officer for EIF, formed the Gambian delegation.
One of the main objectives of the EIF Global Platform is to share and learn from various country experiences with the EIF Programme.
The EIF Global Platform paved the way for a report containing inputs on the draft programme framework for the second phase of the EIF Programme and its revised governance arrangements, a process for ensuring ongoing engagement by all stakeholders throughout development of the new phase.
The outcomes of the EIF Global Platform will contribute to developing a more dynamic, flexible and results-oriented EIF, which demonstrates improved effectiveness, efficiency and value for money.
A multi-donor programme, the EIF supports Least Developed Countries (LDCs) to be more active players in the global trading system by helping them tackle supply-side constraints to trade.
In this way, the programme works toward a wider goal of promoting economic growth and sustainable development and helping to lift more people out of poverty.
The programme is currently helping 50 LDCs worldwide, supported by a multi-donor trust fund, and the EIF Trust Fund, with contributions from 23 donors.
Major activities of the EIF in The Gambia could be summarised as follows:
Funded Projects – Sector Competitiveness and Export Development Project, to the tune of $2.4 million USD and Trade Facilitation Project, which has amounted to $2.4 million USD.
Pending Projects – Inclusive Tourism Development, Strengthening Sanitary and Phytosanitary (SPS) Capacity in The Gambia, Sustainable Fisheries Development and Sector Development Strategies for Cashew and Sesame.
Read Other Articles In Article (Archive)