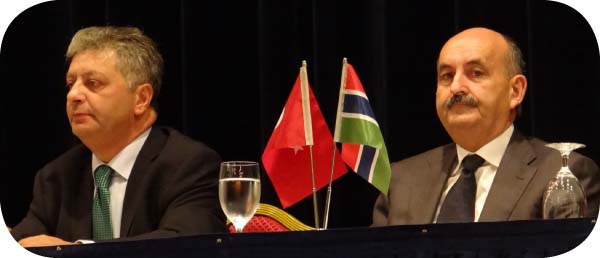 TIKA the Turkish Cooperation and Development Agency is providing financing of $50,000 to the ministry of Health and Social Welfare in Banjul as support in the fight against communicable diseases such as Ebola.
Turkey will also provide beds, medical consumables and other necessary devices for the isolation wards at the Edward Francis Small Teaching Hospital in Banjul and Soma regional health centre, also funded by TIKA.
So far, Turkey has facilitated the training in-country this year of 25 Gambian health workers in the area of providing first-aid during emergencies and natural disasters.
In addition, more Gambian health workers will receive training for five days in Turkey this year, in the areas of neonatal resuscitation practitioner trainingand nutrition breastfeeding practitioner training.
Short-term training for 32 health workers in health management and planning, nursing, neonatology, radiology and various other specialities for doctors are planned.
Meanwhile, the Turkish embassy in Banjul, in a press release issued this week also announced that the ministry of Health and Social Welfare has "accepted to sign and ratify the 24th May agreement in Banjul for the funding of some health-related activities by Turkey in The Gambia".
"Both the Turkish and Gambian sides have expressed their contentment about the 'Agreement between the Government of the Republic of Turkey and the Government of theRepublic of the Gambia on Cooperation in the fields of Health and Medical Sciences', that was signed in February 11, 2014 in Ankara during the visit of the Gambian President Yahya Jammeh", the release added.
"In line with the cooperation in the field of health between Turkey and The Gambia, every year 25 Gambian patients will be flown to Turkey for the treatment of their illness at leading Turkish hospitals, and all expenses will be covered by the Turkish side", the release further announced.
Read Other Articles In Article (Archive)