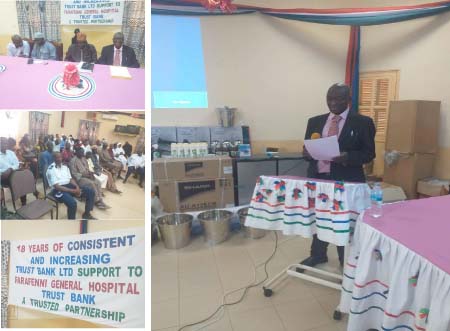 Yesterday the 12th November Trust Bank donated medical items and detergents worth over D200, 000.00 to Farafenni General Hospital.

Presenting the items, the Managing DIrector of the Bank-Mr Ibrahima Salla thanked the Chief Executive Officer of the hospital Mr. Wandifa Samateh and the entire staff, and the people of Farafenni for the warm welcome accorded to him and his Trust Bank team.
Mr Salla said;
'I believe that the choice of donating to the maternity ward, responsible for providing care for women during pregnancy and childbirth as well as for newborn infants is most appropriate.
The presentation today does not only include medical supplies, but the love and generosity of the Trust Bank family to the people of North Bank Region. The generosity of the Trust Bank family shows a Bank that has embedded a commitment to the creation of shared value at the heart of what binds us together.
Distinguished Ladies and gentleman, please allow me to remind ourselves that the presentation today, is a continuation of the work that Trust Bank has been doing for this hospital for the good of the people of North Bank Region.
It is a continuation of a partnership between which started over 18 years ago with the strategic objective of complimenting governments' efforts to ensuring that no mother should die while giving birth, that no child should die at birth from preventable causes and that quality health services will be accessible to all Gambians.
Since then, records have shown that we have achieved a lot together as Gambians albeit all the challenges along the way and I am optimistic that soon, we shall achieve our ultimate objective.
Since adopting the maternity ward of This hospital 18 years ago, Trust Bank has extended numerous supports that have impacted positively on the lives of the patients.
Today, we all take pride in the fact that many mothers with complicated pregnancies will safely deliver their babies and that many medical emergencies will now be managed here at Farafenni Hospital. People will no longer need to travel all the way to Edward Francis Small Teaching Hospital (EFSTH) to get quality health services.
As a proudly Gambian Bank, we do this not because it looks good but because we believe that, above anything else, such donations bring hope to people in need and also help to build and sustain our society.
But with this spirit of generosity comes a responsibility on the part of the Management of the hospital who channel the generosity into action. I must say that we at Trust Bank are immensely proud that our donations are touching the lives of the ordinary Gambians.' He concluded.
Read Other Articles In Article (Archive)