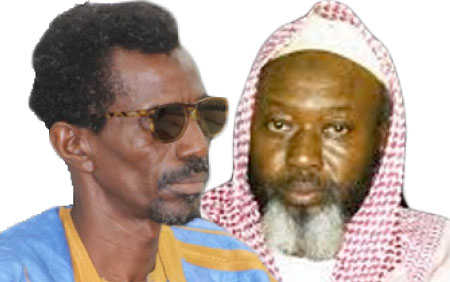 Abass Muhideen Hydara, the son of Sheikh Sheriff Muhideen Hydara yesterday testified before the TRRC in connection with his father's encounter with former president Yahya Jammeh, disclosing that Imam Abdoulie Fatty was responsible for the arrest of his father. He held that his father was arrested for not agreeing to pray on the same day with Supreme Islamic Council (SIC) in July 2014.

Muhideen, a resident of Dasilamin Sanghajor in Foni Kansala, recalled that the day was the Ramadan Eid prayer. He added that it was only the SIC that announced for people to pray the Eid when Makka sighted the moon. He said his father believed that the moon should be sighted within the country or sub-region and not Makka which is far away from this region.
"When the SIC announced the Eid on 28 day of the Ramadan and prayed, they had a meeting with Jammeh and President of SIC Lamin Touray told Jammeh that they tried for the whole country to pray the same day but they couldn't. Touray told Jammeh that if the SIC and Banjul Imam pray, no one should pray again and he (Jammeh) is the only one who can help them."
Mr. Hydara testified that Jammeh told Touray no one would pray the following day, saying the country belonged to him; adding anyone who prayed the following day would regret it.
"He told the Interior minister that if anyone pray and they are not arrest, then he (Jammeh) will arrest the minister."
He explained that his father once told him that Jammeh requested a prayer from him to become king. However, he added, his father replied that praying for the country's peace and stability was more important.
"My father prayed the day Jammeh prohibited and after coming back home, a police vehicle arrived and said they came to arrest the person who led the prayers. When they realised my dad was old around 80-90 years, they found it hard to arrest him. They arrested Alkalo Buya Touray and took him to Bwiam Police Post. My father was later called to go to the Bwiam Police Post, which he did."
He clarified that his father and the alkalo were in Bwiam from 11 a.m. to 5 p.m. and later taken to Sibanor Police Station, where they spent the night. The following day, he added, they were transferred to Yundum Police Station where he (Muhideen) met them and his father was not in a good condition.
The Darselam Khalifa stated that the two detainees spent two nights at Yundum Police Station and were released the third day and taken to Police Headquarters. In Banjul, he said, the relatives were not allowed to go with the detainees to meet the then IGP Yankuba Sonko.
After coming back from the IGP's office, they were told to go to the SIC.
He continued that during the discussion at the SIC, Ebrima Jarju, Modou Lamin Touray and Abdoulie Fatty were part of the discussion. According to him, Fatty said he was the one who told the police to arrest his father and not Jammeh, and his father should admit that he was wrong so that he would be released.
At that juncture, Counsel Sagarr Jahateh, reading from a Foroyaa published news article, indicated that Sheikh Muhideen Hydara insisted that he would not confess to any wrongdoing by praying on a different day.
"We spent another day at Yundum Police Station and Yankuba Sonko said they could be bailed in the sum of D100, 000."
He said they were bailed after four days in detention but were frequently reporting until they were asked to report to the Brikama Magistrates' Court. With that, he added they would confess to someone that they were wrong so that the case would die. He said the accused disagreed and engaged Lawyer Lamin Mboge to defend them on trial.
He recalled that the trial started in August 2014 and ended in May 2015.
"The case was later transferred from magistrate court to high court in Brikama and was first presided over by a Nigerian judge, Ekbala and it was handed over to another Nigerian judge called Justice Oduma. The case concluded in Ebrima Jaiteh's court with the learned judge discharging them. Few days after, he said, Jaiteh was arrested but eventually released."
In his concluding remarks, the witness indicated that they will never trust the SIC based on their past deeds during Jammeh's regime and thus called on government to rename the council with new faces.
Read Other Articles In Article (Archive)