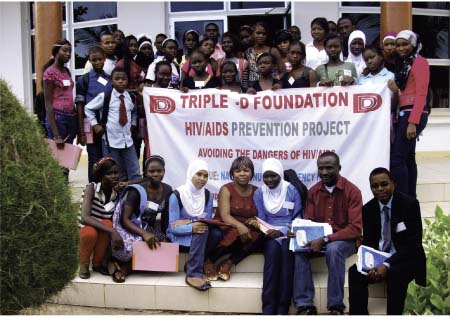 Triple-D Foundation, a local initiative on awareness creation on HIV/AIDS and other killer diseases, at the weekend held a daylong sensitization seminar on HIV/AIDS prevention techniques for schoolchildren at the National Nutrition Agency on Bertil Harding highway.
Triple D-Foundation programme coordinator Sainabou Mbye, in her welcoming remarks, advised the participating students at the seminar to share the knowledge gained from it with their colleagues.
Alieu Jammeh of National Aids Control Programme spoke at length on the importance of the seminar, saying reports have shown that there is more than 50 per cent drop in new HIV infections across 25 countries since 2001 among which 13 are in sub-Saharan Africa.
 "This event is a demonstration of the strides taken by Triple-D Foundation and other civil society organizations to sensitize the general public on the epidemic, especially the school-going children who are the hope of the society and the country at large," he stated.
"Equally putting a strain on our efforts are other competing priorities such as climate change resulting in natural disasters, which has further stretched the limited financial resources and development assistance."
Even as natural disasters strike women and children continue to bear the brunt of these natural calamities, he said, adding that women and children are the hardest hit, which is why Triple-D Foundation has seen the need to target young children to better equip them before they reach adulthood.
The Triple-D Foundation seminar will serve as a catalyst that brings about socio-cultural, political and legal transformation to promote, protect and fulfil the rights of girls and schoolchildren, Mr Jammeh said.
He also commended Triple-D Foundation for their initiative, while calling on others to emulate them.
Dr Lawrence Owoyemi, director of Triple-D Foundation, who gave background information of the foundation, said women and girls are more vulnerable to infection, and unprotected sex further increases the risk of HIV transmission to partners, especially in adolescent girls.
In a PowerPoint presentation, Dr Owoyemi defined HIV as human immunodeficiency virus which causes AIDS.
HIV attacks the immune system, destroying a type of white blood cell that helps the body fight off infection and disease, he says, adding: "The HIV virus gradually attacks immune system cells.
"As HIV progressively damages these cells, the body becomes more vulnerable to infections which it will have difficulty in fighting off. It is at the point of very advanced HIV infection that a person is said to have AIDS." 
Read Other Articles In Article (Archive)