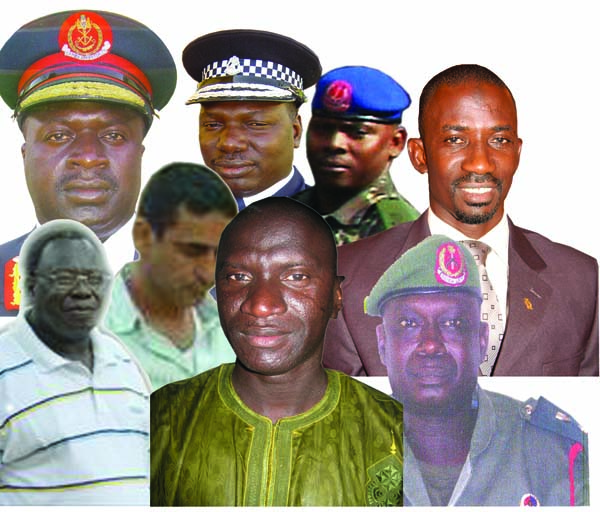 The ongoing treason trial involving former Chief of Defence Staff Lt. General Lang Tombong Tamba and seven others is expected to resume today at the High Court in Banjul.
During the last sitting, the Director of Public Prosecutions (DPP), Richard Chenge, made an application for another adjournment so as to serve the defence with crucial documents.
He said though the witnesses were available, they wanted to make a full disclosure of the documents to serve the defence. The defence reluctantly accepted this application.
It would be recalled that the prosecution has so far called ten witnesses to testify in the case, starting with Ebrima Marreh described as the principal witness.
Rui Jabbi Gassama was the second witness for the prosecution, who testified that he had, among other things, trained 300 mercenaries at Bambadinka in Bissau, to carry out the alleged coup against the Gambia government.
Baluta Kanyi the third prosecution witness testified that he and others were assigned to de-kit Lang Tombong Tamba, while Kabirou Saidy the fourth state witness, reportedly working as a security agent at the Gambian Embassy in Bissau also came forward to testify.
The prosecution witness also included detective officers Lamin Cham and Sainey Ndure, who testified that as police officers they obtained the cautionary and voluntary statements of some of the accused persons.
Two intelligence officers whose names were not disclosed for security reasons also testified in the case.
The ninth witness for the prosecution was Lt. Colonel Yerro Jallow, Commander of Farafenni Infantry Battalion.
The tenth witness to testify in the case was Lt. General Masanneh Kinteh.
Read Other Articles In Article (Archive)