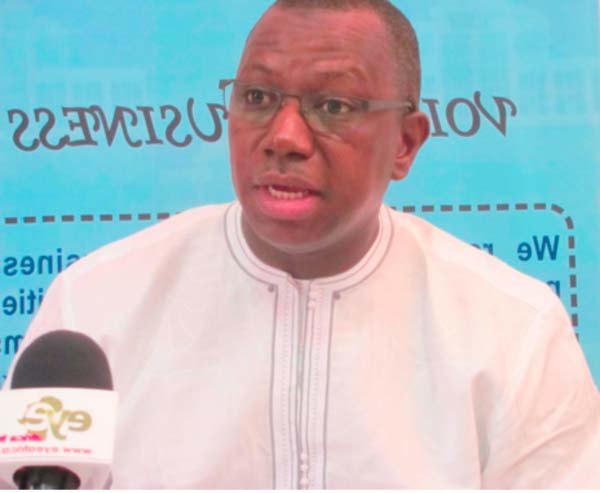 The 10th Edition of Trade Fair Gambia International (TFGI) under way at the Independence Stadium has gradually been gathering momentum by the day, as Ramadan approaches.
Launched by the Gambia Chamber of Commerce and Industry (GCCI) on Saturday 21 May and officially opened three days after, the 10th Edition of the TFG International will wrap up on 5 June 2016.
Despite challenges such as the Senegambia border closure that encroached on the preparation and commencement of the ongoing trade fair, the GCCI has been making frantic and relentless efforts at encouraging the general public to make the most of the trade fair.
Speaking yesterday in interview with The Point, GCCI Chief Executive Officer Alieu Secka has said that GCCI has been making advertisement on GRTS TV to ensure the public is fully aware of the ongoing trade fair, so as to get the Gambian public benefit from the business opportunities, products and services on offer at the trade fair.
He said: "We have also had a documentary on GICAV, NEMA project on GRTS almost every 2 days. We have had programmes with West Coast Radio two weeks before the programme, which is still ongoing. We also use Senn FM radio, especially during their morning shows with women (the marketing). We are also on Facebook page with advertisement, plus some SMS to alert and keep people abreast of the developments. We have GCCI Apps on ITunes and Google. All of this is to promote the trade fair."
CEO Secka also said they are having a campaign with star musicians of The Gambia music industry, doing live shows every night at the trade fair.
Commenting on the theme of the trade fair - Value Chain Addition, with special focus on agribusiness and food processing – CEO Secka said: "We have created a special food court to showcase the project of NEMA and GICAV, particularly for rural communities and women to bring their produce to Banjul, so that they can showcase them at the trade fair.
He also said that the GCCI further organised this fair with a different focus on local food and fashion, as a lead up to Ramadan.
"Unfortunately, Senegal's border closure also delayed the arrival of many regional exhibitors and necessitated some Ghanaians to fly instead," he said, adding: "Since last week, several Senegalese, Burkinabes, Nigerians have arrived."
Top Gambian artistes including Bai Babou, Tata Ding Ding, Army band and many others will continue to perform nightly, he said, adding: "Vendors have also discounted their prices because of the Ramadan."
All are, therefore, encouraged to visit the trade fair grounds, especially as the Ramadan is approaching.
The Trade Fair Gambia International, it must be noted, is out to provide business exposure to the small and medium enterprises, promote Gambian products, provide a platform for joint-ventures,develop links between Gambian and international businesses,promote the development of the SMEs, and draw public attention to the role of the private sector.
Read Other Articles In Article (Archive)