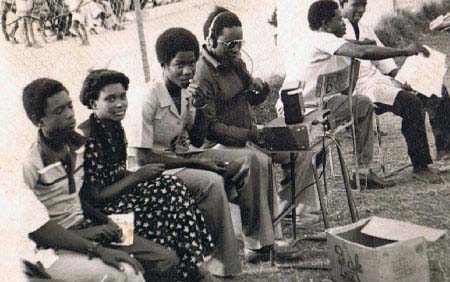 Following the very impressive article that Gambian Sports Icon Tijan Masanneh Ceesay shared with our leaders on the 1983 Gambia national football team, Lamin Cham of PointSport reached out to Tijan yet again to clarify some of the claims in that article. As humble as ever, he agreed to answer the questions Lamin Cham posed in no time and below we now publish the exchange between Lamin Cham and Tijan Masanneh Ceesay, the author of An Insiders Review of Gambian Football.
Lamin Cham: Tijan you spoke highly of the 1983 team, what's so intriguing about that team?
TMC: Wow, great question and I can answer this in the shortest possible way by saying all and everything! You see,
Lamin, that team was family, the solidarity and camaraderie was really second to none. The team was one big family, a united one with one purpose, which was to represent The Gambia well.
I was the youngest in that group and I cannot tell you the lessons I took from those guys even though they whooped my butt every single day because I would not leave them alone; in a good way though; they loved me dearly.
Really it was their unity and solidarity that made them special because it showed on game day. It was complete chemistry and I believe Saihou Sarr and the technical committee at the time deserved the kudos for being able to put all those egos in one room and unite them the way they were. It was unbelievable and honestly I have never witnessed any fracas between team members; it was fun and jokes all day.
As a matter of fact, unless you knew the players personally, you were not able to tell who resided where in Banjul as we were all over the place and eternal bonds and friendships were built.
Despite no rewards, for which they cared less, they took great pride in our flag and slugged it out on any given day.
I just have never seen such a group of men in all my years associated with Gambian football.
Also let me make a point of rectification: in the piece I discussed how Louis Thorpe and Ebrima Dubois started against Ghana and I said they were inexperienced; what I should have said was, two upcoming young stars that started ahead of Laos and Joe Tennis, but were not yet up to task for a game of that magnitude, but were as talented as anyone; but they were just not ready for that game. I misspoke!
Lamin Cham: Have you read George Gomez's book?
TMC: Indeed I have, he was gracious enough to send me a copy recently and I cannot tell you how much I appreciated the "GOLD" in his book. That Man is my Icon. 
I can tell he worked extremely hard to put that work together and the literature therein is just unbelievable. It is indeed gratifying to know that many generations to come will have the opportunity to read about the origins of Gambian football.
While I may have had foreknowledge of some of the things in the book, I must say it is minute compared to what he put together.
I just hope football fans of Gambian origin will strive to lay hands on his book; it is GOLD! Great piece of work!
If you recall when I did the series with you on Gamsports a few years ago, I said if anybody is to put a book together on Gambian football, it should be George Gomez, Pap Saine and Charles Thomas - these men are great historians and I did learn a lot from all of them.
Lamin Cham: You seem fascinated by Box Bar Stadium, Why?
TMC: Yes but for all the good reasons. You see, Lamin, Box Bar Stadium was a small stadium which made it a great platform for interaction on game days. From the Groundkeeper Modou "Park" to Bojang (Endurance, the top cop at the stadium at the time, everything was just gratifying. Also you had Tally 8 or Katanga as they were known and they occupied the fence side. One of the leaders of Katanga is now Honorable Alagie Sillah and I can tell you, they gave the FA a run for their money so to speak. The best games I saw in Gambian football were also played there, the ambiance with Alieu Sallah running from one end of the fence to the other, or the old Aku Man named Pa Phillot strolling the fence when Real De Banjul were playing are just memories of a life time.
Also Biri will tell you today, that the greatest goals he scored in his historic and story-telling career were all at Box Bar Stadium and the one against Goalkeeper Braissia of Guinea Bissau in 1980, from forty-five yards, a throw pass from Star Jallow with his back to the goal post, turned around and sent a floater Saul Njie referred to as a "hammer sledge " in the commentary box, it was nothing but net! Belai mor muna play bajo!
Lamin, I am starting to lose it now; emotion is beginning to catch up as I type. My greatest memory of Box Bar stadium though is a funny one and I should let it out now. I recall a Young Africans/Starlight game and I was given the assignment to bury our "ngiri' that Sunday morning. Well I took the responsibility not knowing that the Proms of MacDonnell Street, the custodians for Starlight at the time,  walked through Box Bar Stadium on their way to Church; so here I came having already buried the "ngiri" at the Primet Street end and headed to the opposite end, Police line to be precise, and as soon as I started my exercise, I had a sweet lady voice, that called out in Wollof, "AH YOV YAI SUUL" and as soon as I turned around it was Lady B Prom from the Starlight team, that was funny!
Lamin: In your piece last week, you claimed that the 1983 forward line was the best ever in Gambian football; I will believe your time. Now some fans of that era want to challenge you on that: they claim the Liberia forward line was more talented. How do you spin this one?
TMC: Really nothing to spin here; that's the beauty of Democracy where everyone has a right to their opinion. This was and is still what I believe and I will want to briefly elaborate on it. If you look at the 1979 lineup, indeed there was great talent there: you had Biri, Tony Joiner, Ndow Njie, Alagie Nyan, Salimong Nyassi, Charlie Boy and Saul Samba. Indeed great talents but the problem was the combinations were not there. You had three center forwards in Ndow Njie, Biri and Salimong Nyassi; if you wanted to start Ndow, Biri had to drop and play the role of a ten and took away from the speed of our attacks unlike having Malleh Wadda a natural center forward manning that position flanked by two young aces in Saul Samba and Joe Sambou. You see Tony Joiner was used more in the flanks and those who knew Tony then are aware that the man was a center forward. That front line could have been more potent if Essa Faye was starting at his natural right wing position. These problems were there and it showed, Gambia played one of the finest football but finding the back of the net was a problem unlike the 1983 team that had no problems scoring at will. This is exactly where my claim is premised on. Now I never said the 1979 forward line was not as good, I alluded to the combinations on the 1983 team.
Lamin: You spoke about Essa Faye being kicked out of the team but you did not go into details, can you please elaborate?
TMC: Well first let me say I broke the news a few hours after Essa was kicked off the team because personally I was not happy about it and I thought the reasons were weak, so to speak.
The coaching staff was not too happy about me breaking that news and indeed I was confronted at the team's headquarters at the Bakau Police Depot and even threatened that I might not be allowed around the national team in future.
The full details are inside the pages of AN INSIDERS REVIEW OF GAMBIAN FOOTBALL and I'll leave it at that.
To be continued with Part Two
Read Other Articles In Article (Archive)