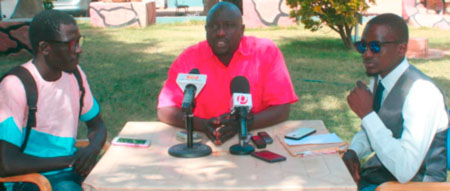 The organizing committee of Sutukoba Kankiling Festival, in collaboration with the National Center for Arts (NCAC) and Culture, last Thursday launched the third edition of the Sutukoba festival at a press briefing held at the NCAC office in Banjul. The Festival is slated for 7th and 8th February, 2020 in Wuli, Upper River Region (URR).

Cultural festival is observed as an important event in cultural preservation and revival in the society.
Director of Literature, Creative and Performing Arts at NCAC, Sheikh Omar Jallow gave a detailed background of the festival, saying there is huge economic gains for the host community from the festival, especially on community-based tourism (CBT).
He disclosed that before any festival can be added to the country's festival calendar, it has to meet some criteria which among is the content and sustainability.
Kakibi Yaffa, PRO of the Sutukoba Festival organizing committee thanked National Centre for Arts and Culture for the collaboration and for giving them the platform to promote the festival.
He reflected on how the festival came into existence, saying that the past editions were good opener for the third edition. "Activities have been reshaped to the requirement of the NCAC taking into consideration the history of Sutukoba Kankiling which we want to preserve for the future generation."
According to him, the Festival targets to bring the community under one umbrella and unite the people.
Almamy Jabbie, member of the organizing committee said it is a sustainable festival which has met the outlined criteria of community festival, saying that there are many factual heritages within the Sutukoba community.
Read Other Articles In Article (Archive)